Jordan: We Will Completely 'Wipe Out' ISIS; UAE Rejoins US-Led Airstrikes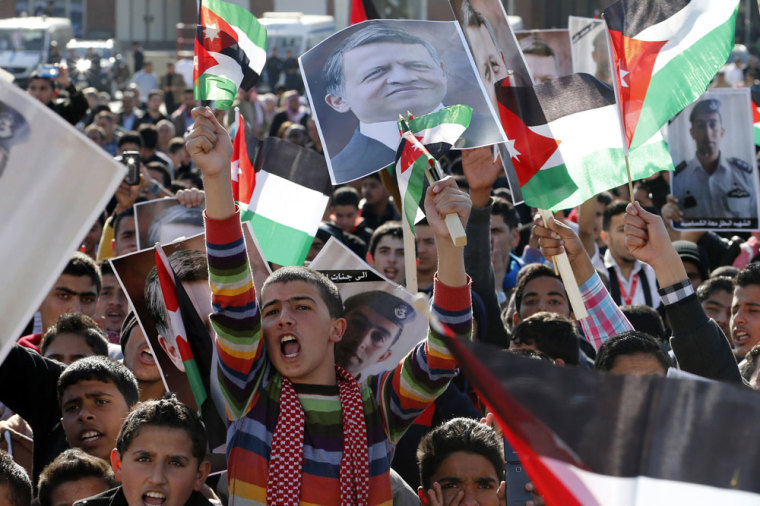 Jordan pledged Saturday it will go after Islamic State and carry on with the fight until the terror group is "eliminated and completely wiped out." The United Arab Emirates has also resumed its participation in U.S.-led airstrikes.
Jordan's interior minister, Hussein al-Majali, said his country will go after the militants "wherever they are," The Associated Press quoted the state-run al-Rai newspaper as saying.
The airstrikes that Jordan began recently are "the beginning of a continued process to eliminate them and wipe them out completely," he added.
A Jordanian pilot, Muath al-Kasasbeh, who was captured by ISIS after his plane came down near Raqqa in Syria in December, was allegedly burned to death in a cage, according to video released recently by ISIS.
Jordan, which shares borders with Syria, has vowed harsh retaliation.
Meanwhile, the United Arab Emirates, which had reportedly stopped its participation in U.S.-led airstrikes after the Jordanian pilot's capture, said Saturday it ordered a squadron of F-16 fighters to Jordan as per the order of Abu Dhabi Crown Prince Sheikh Mohamed bin Zayed Al Nahyan.
The UAE holds a "deep belief in the need for Arab collective cooperation to eliminate terrorism, through actions and words, and bolster the security, stability and moderation of the nation through the collective encountering of these terrorist gangs and their misleading ideology and brutal practices," WAM, Emirates News Agency, said.
It's an attempt to stop "the brutal terrorist organization that showed all of the world its ugliness … through abominable crimes that exposed its false allegations and drew outrage and disgust from the Arab peoples."
The UAE had suspended its combat missions allegedly because of a lack of appropriate search and rescue capabilities near the fighting areas.
ISIS, an al-Qaeda offshoot which seeks to form an Islamic emirate in the Levant region through "jihad," has gained control over large territories in Iraq and Syria.
Coalition airstrikes hit ISIS targets in Iraq and Syria, including at least a dozen strikes on Mosul, on Saturday, according to CNN.
Airstrikes also hit ISIS positions near ISIS' de facto capital of Raqqa, Syria. At least 10 explosions were reported Saturday in Hazema, north of Raqqa, and six other strikes happened in Tabqa to the west, according to a tweet by the activist group "Raqqa is Being Slaughtered Silently."
More than 2,000 air raids have been launched against ISIS, also known as ISIL, according to Agence France Presse.
The Sunni group has released videos showing the killing of two Japanese hostages, Haruna Yukawa; the burning alive of the Jordanian pilot; as well as the beheading of five Western hostages – of British hostages David Haines and Alan Henning, and U.S. citizens James Foley, Steven Sotloff and Abdul-Rahman Kassig.