Jordin Sparks Talks Painful Party Life Before Rededication to God Last Year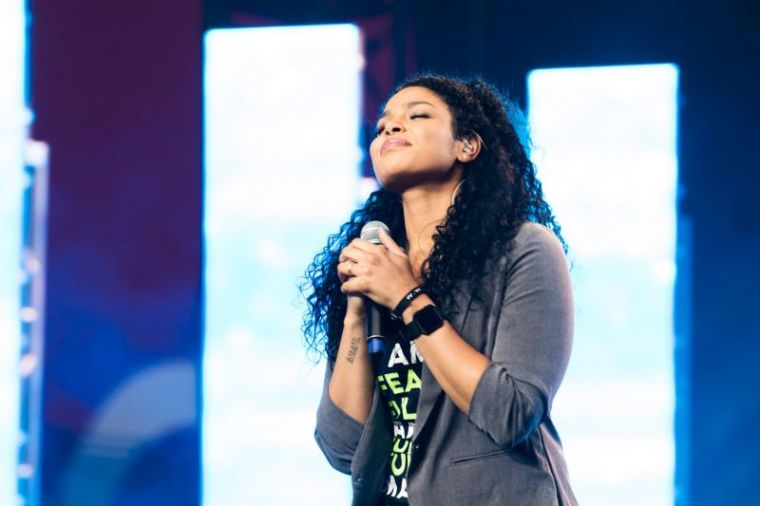 Jordin Sparks says she was more focused on partying than her relationship with God last year, but now that she's taken major strides in her faith walk she's revealing how her Creator changed her lifestyle that was rooted in pain.
The 27-year-old performed at Pastor Greg Laurie's Harvest America event at the University of Phoenix Stadium in Arizona Sunday where she performed "My Redeemer Lives." Before leading the packed crowd in worship, she revealed that God brought her out of a chaotic time in 2016 after a family member invited her to an Easter service.
"There was a lot of crazy chaos going on in my life and I was out partying and I just was hurting and I was trying to figure out what was going on," Sparks revealed. "So, I finally go, I get there ... I tell you Jesus met me there last Easter and He reawakened me."
Now that she has rededicated her life to Christ, the "American Idol" alumnus is letting people know that it's never too late to turn things around.
"Being able to know this Jesus that walks beside you every single day has been the most amazing year of my life," she said. "It's never too late to come home. He loves you no matter what."
Following the Harvest America event that took place in her hometown of Phoenix, Sparks took to social media to reflect on the experience.
"What a beautiful night @harvestamerica," she wrote on Instagram. "So many people coming home to Jesus' loving arms. I'm overwhelmed in the best way. #harvestamerica."
This is not the first time Sparks has shared her faith walk. In February, she was a guest at Rock Church in San Diego, California, led by Pastor Miles McPherson, where the singer spoke about her faith journey. Sparks encouraged people to push past fear and go to the altar where they can commune with the Lord.
"What I learned was Jesus does His best work when you're broken because He puts the pieces back together," Sparks said. "So, if any of you guys are sitting here, don't be scared to come up here. If there's any place you're safe, it's here in front of the altar."