Ahead of key shareholders meeting, JPMorgan Chase denies closing accounts over religious, political views
Christian hedge fund manager warns of 'woke cultural moment'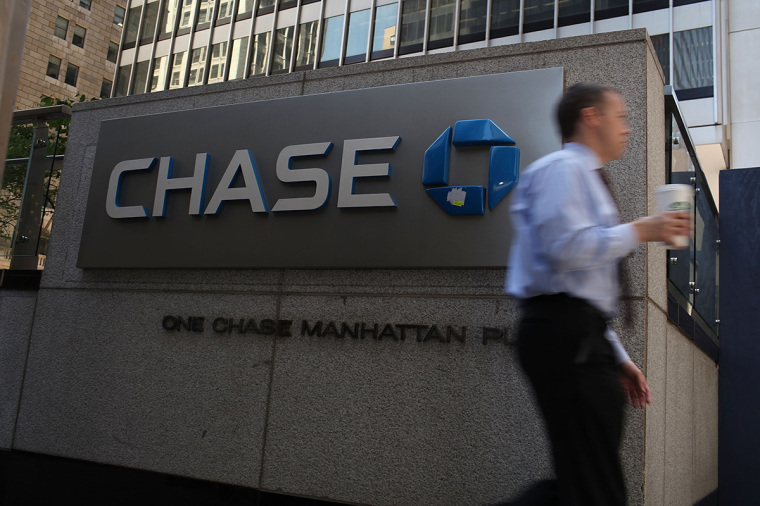 A Christian portfolio manager and TV commentator is set to challenge the shareholders of one of the nation's biggest banks over what he says is "evidence of religious and political discrimination" in the financial sector.
David L. Bahnsen, the founder and managing partner of The Bahnsen Group, which manages over $4 billion in client assets, will present a resolution at a May 16 shareholders meeting for JPMorgan Chase which will call on the company's board of directors to evaluate how it oversees risks related to discrimination against individuals based on a number of criteria, including religion and political views.
The resolution states that JPMorgan Chase shareholders are "particularly concerned about recent evidence of religious and political discrimination by companies in the financial services industry," citing a Statement on Debanking and Free Speech signed by Bahnsen and dozens of other wealth managers.
Calling on JPMorgan Chase to "respect civil rights by identifying potential factors that may contribute to discrimination in the provision of services based on race, color, religion, sex, national origin, or social, political, or religious views," the resolution warns any failure to do so could impact both clients and the marketplace as a whole.
The resolution reads in part: "When companies engage in this kind of discrimination, they hinder the ability of individuals, groups, and businesses to access and equally participate in the marketplace and instead skew it to their own ends."
While the resolution does not go into detail about any discrimination, the statement on debanking released by the religious freedom legal nonprofit Alliance Defending Freedom's Viewpoint Diversity Score (VDS), which alleges what it called "numerous examples of overly broad language" that could be construed as "authority to deny or restrict service for vague, arbitrary, or viewpoint-based reasons."
A number of some of America's biggest financial companies are cited in the debanking statement, including Capital One — which the index says prohibits transactions that promote hate — and Visa, which requires any merchants using its services to avoid "hateful" conduct.
In March, the Securities and Exchange Commission rejected a motion filed by JPMorgan Chase to keep the resolution off the ballot on the basis that the resolution "transcends ordinary business matters."
Following the SEC's response, the JPMorgan Chase board of directors urged shareholders to vote against the resolution, which the firm's proxy statement calls "Proposal 10" and claims is "based on allegations that are not true."
The statement reads in part: "It is not our policy to debank people because of their political views or religious affiliation. We believe [JPMorgan Chase] has a strong corporate culture that values diversity of backgrounds, ideas and experience and effectively works to prevent discrimination."
Last October, Chase closed the account of the National Committee for Religious Freedom (NCRF), a faith-based nonprofit organization led by former United States Ambassador Sam Brownback,  who said there was "never an official cause given" for the move.
"It's secret, it's irrevocable, and that's all the information we got," Brownback told The Christian Post at the time.
It was Brownback's experience that led Bahnsen to author the resolution in the first place.
"My feeling initially was that it may be a coincidence or there may be more going on than I understand," Bahnsen told CP Thursday via email. "As I looked deeper into this, it became evident to me that there was something to these reports and that management's explanations were insufficient."
Despite the concerns about the financial sector and investment banking, Bahnsen said it's imperative for Americans to pay attention to what he called this "woke cultural moment."
"The freedom to transact in the marketplace is a pretty fundamental freedom when it comes to all people's quality of life," he added. "Companies that choose to discriminate against people by limiting their freedom in the marketplace because of their religious or political views are eradicating that quality of life and doing so systematically."
Earlier this month, 19 Republican state attorneys general wrote a letter to CEO Jamie Dimon and called on JPMorgan Chase to "stop its religious and politically biased discrimination and start living up to its commitment to an inclusive society where everyone feels welcomed, equal, and included."
That letter comes just over a month after 14 Republican state auditors, controllers, and treasurers wrote to Dimon to "convey our concern that the bank is engaged in what appears to be politically motivated de-banking of certain industries, individuals, and groups."
"In light of this concern, we urge Chase to immediately take steps to identify and address internal drivers of political or anti-religious bias that could undermine its fiduciary obligations and impair the freedom of its customers to access financial services without fear of discrimination," the letter stated.
While it's unclear whether such efforts will lead to further action, Bahnsen said further oversight is critical to prevent future discrimination on behalf of America's biggest financial firms.
"Some companies, like JP Morgan, are large, complex, and in need of processes to ensure it is not happening," he said. "The woke cultural moment has created a new battleground for religious and economic liberty. These are the core issues on which our nation was founded."
Bahnsen, who is also on the Board of Directors for the National Review Institute and is a founding Trustee for Pacifica Christian High School of Orange County, is the son of the late Greg Bahnsen, a well-known Christian apologist and theologian.
As a longtime faculty member for the Acton Institute, Bahnsen has spoken about the need for Christians to view work as more than simply a "necessary evil" but rather a divine institution. 
"... In fact, we were created to work, and … God, being a worker and making us in his image, asked us to be a co-creator with him," he said in a 2021 interview. 
"He gave us a dignity that mirrors the image that he has, and us as co-image-bearers are now responsible to steward the earth, to have dominion over the Earth, and that, in fact, work was created to be a great blessing in our lives and is existential to our mission here on Earth."