Judge Orders the Removal of Ten Commandments From a New Mexico City Hall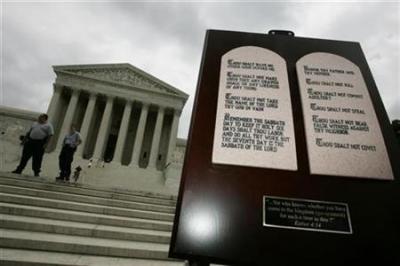 A judge has ruled against a Ten Commandments display located in a New Mexico city hall, deciding in favor of a lawsuit brought by two Wiccans.
U.S. District Court Judge James Parker ruled last week that Bloomfield City Hall must remove the Ten Commandments display as it violates the Establishment Clause of the First Amendment.
"The Ten Commandments monument is government speech regulated by the Establishment Clause because the Ten Commandments monument is a permanent object located on government property and it is not part of a designated public forum open to all on equal terms," wrote Parker.
"In view of the circumstances surrounding the context, history, and purpose of the Ten Commandments monument, it is clear that the city of Bloomfield has violated the Establishment Clause because its conduct in authorizing the continued display of the monument on city property has had the primary or principal effect of endorsing religion."
In 2012, the New Mexico chapter of the American Civil Liberties Union filed a lawsuit against the city of Bloomfield regarding a Ten Commandments display on their city hall property.
The ACLU filed the suit on behalf of Jane Felix and B.N. Coone, two pagan residents of Bloomfield who took issue with the Ten Commandments's placement on government property.
ACLU of New Mexico Executive Director Peter Simonson in a statement said that his organization had no issue with private organizations posting Ten Commandments displays.
"Individuals, religious communities, and religious associations should be free to post the Ten Commandments as they wish, and the ACLU will defend their right to do so," said Simonson.
"But the government should not decide which religious doctrines it favors and then post them on government property."
The six-foot-tall, approximately 3,000-pound Ten Commandments display was placed at city hall in July 2011 and officially dedicated by former city councilor Kevin Mauzy.
In an interview with local media regarding the Parker decision, Bloomfield Mayor Scott Eckstein expressed surprise at the result of the lawsuit.
"I am surprised (by the decision) and had never really considered the judge ruling against it because it's a historical document, just like the Declaration of Independence and the Bill of Rights," said Eckstein to the Daily Times.
"The intent from the beginning was that the lawn was going to be used for historical purposes, and that's what the council voted on."
Bloomfield has 30 days from last Thursday to review the decision and decide whether or not to appeal.