K-LOVE and Arise NY Family Fun Day: Jeannie Ortega to Perform in Central Park Sunday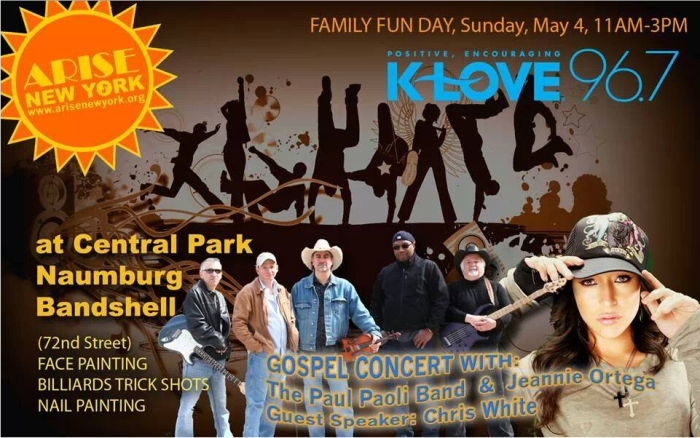 Jeannie Ortega is joining forces with the band Process of Fusion and Hill & Ward for a concert in New York's Central Park for a Family Fun Day this Sunday, May 4.
The free event will take place at Central Park's Naumberg Bandshell at 72nd Street where the gospel groups The Paul Paoli Band and guest speaker Chris White will also take the stage. In addition to the music, face painting, billiard trick shots and nail painting will be available starting at 11 a.m. and running until 3 p.m.
Ortega has topped Billboard charts with hit songs such as "Crowded" off her album No Place Like Brooklyn and the singer even toured with Rihanna in 2006. As an actress, the New York native has appeared on the soap opera "One Life to Live" and the film "Step Up." However, after earning stardom, Ortega realized she could use her career to better honor God by sharing her touching story, transformation in God and performing her own music. Her independently released album, Perfect Love, was released in 2012, and the singer is currently working on a third album.
Ahead of the fun on Sunday, Ortega explained her involvement with the Arise New York organization as well as her own hopes for the crowd in Central Park.
"I'm teaming up with Arise New York in hopes to share Jesus with the city," the 27-year-old singer told The Christian Post. "I love performing and singing but for me it's more about ministry and offering people the hope that I find in Christ. My hope this year is to have everyone put all other things aside and sing praise to God smack dab in the middle of New York City."
The "So Done" singer also previewed which songs she will sing during the family event this Sunday, mixing some original songs with her newer music- all in the name of the Lord.
"Worship is what invites the presence of God and I wouldn't want to do anything unless His presence is with me," Ortega explained. "My original songs ("Strong," "Freak," "Insanely Blessed") tell stories of a Christian person trying to figure it all out in the world around me. They'll be times to reflect, times people would want to dance, but most of all music that will help us get to a place of worship and communication with God."
Ortega is currently recording an album in Nashville that is expected to be released this fall. In the meantime, she will be performing and touring in the New York area.