Kansas City Royals First MLB Team to Host Anti-Porn Seminar for Players, Coaches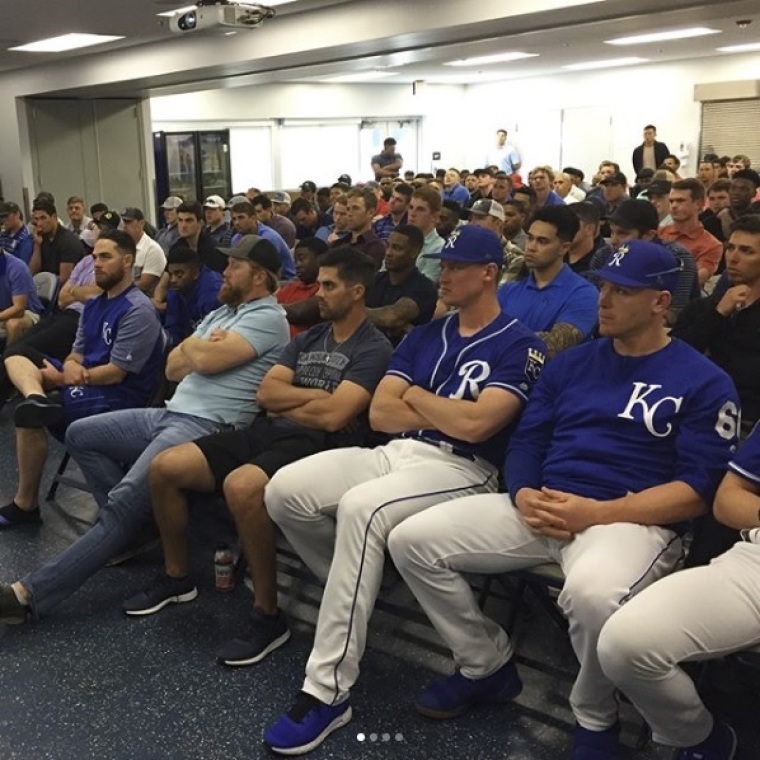 The Kansas City Royals have become the first Major League Baseball team to host a seminar on the harmful effects of pornography for its players, coaches and staff.
As the 30 MLB teams gear up for the start of the regular season, the Royals took time out of their busy spring training schedule in Arizona to host a presentation by the nonreligious nonprofit organization Fight the New Drug.
Fight the New Drug exists to "provide individuals the opportunity to make an informed decision regarding pornography by raising awareness on its harmful effects using only science, facts, and personal accounts."
"Last weekend our co-founder @clayolsen presented to the @kcroyals players and coaches," the caption of an Instagram post showing players and coaches listening during the meeting reads. "The Royals are the first #MLB team to actively take a stand against porn, and we're inspired that they're stepping up to the plate."
This is not the first time the Royals management and players have discussed the effects of pornography.
In August 2017, the team's general manager Dayton Moore was asked during a press conference while discussing a player's DUI citation about whether there were any additional educational protocols put in place regarding drinking and driving. Moore explained that there were additional protocols but not just for issues of alcohol and drugs.
"We've done a lot of leadership stuff with our players," Moore said. "[We've been] very transparent about things that happened in our game, not only with drugs and alcohol. We talk about pornography and the effects of what that does to the minds of players and the distractions and how that leads to domestic abuse, abuse of women, how it impacts relationships."
"We talk about a lot of things and I don't mind sharing them with you because the most important part of this journey as a professional athlete is the next 50 years," he added. "Not the two, the six, the 10-year career."
Fight the New Drug Co-founder Clay Olsen praised Moore and the Royals in an Instagram post earlier this week.
"The Kansas City Royals (@kcroyals) are an unbelievable organization that truly care about the overall well-being of their players on and off the field. The message of how pornography can impact individuals, relationships, and society is one they are taking very seriously," Olsen said. "Dayton Moore is such an impressive leader. He does what needs to be done ... regardless. ... I'm honored to have spent some time with all of them and am looking forward to continuing to support their efforts to educate and support players and staff moving forward."
According to John D. Foubert, president of the rape prevention nonprofit One in Four, there are over 100 studies that show pornography is both correlated with and the cause of "a wide range of violent behaviors."
"Over 50 studies show a strong connection between pornography and sexual violence," he wrote in a 2017 paper published in Dignity, a journal that focuses on sexual exploitation and violence.
"The more men view pornography, the more they think that women are lesser creatures who they can dominate," he wrote. "Pornography use increases the likelihood that a man will commit sexual violence against a woman, particularly if the man has other risk factors for committing sexual violence like being impulsive, and if his use of pornography is frequent."
Foubert added that pornography use by itself is "not a singular, direct cause for sexual assault."
"However, if a man has other risk factors for committing sexual violence, for example hostile masculinity or a preference for impersonal sex, adding frequent pornography use makes it much more likely that he will commit sexual violence," he added. "If anyone has an agenda to end sexual violence — and I hope you do — you must tackle the issue of pornography if you want to have an impact."
According to Fight the New Drug, over time people can develop a compulsion to pornography that causes them to need more of it and more hardcore versions "just to feel normal" — a characteristic also found with "mood-altering drugs."
"The amazing brain, in other words, can be hijacked," a Fight the New Drug online video states. "Image after image after image, your expectations of sex, love and relationships can evolve with your own sexual preferences changing dramatically as you continue to seek our more shocking content. No surprise then that in comparison, people and activities that you really care about seem less interesting."