Kate Forbes, Evangelical Christian mom in race to replace Sturgeon, defends faith against 'illiberal' critics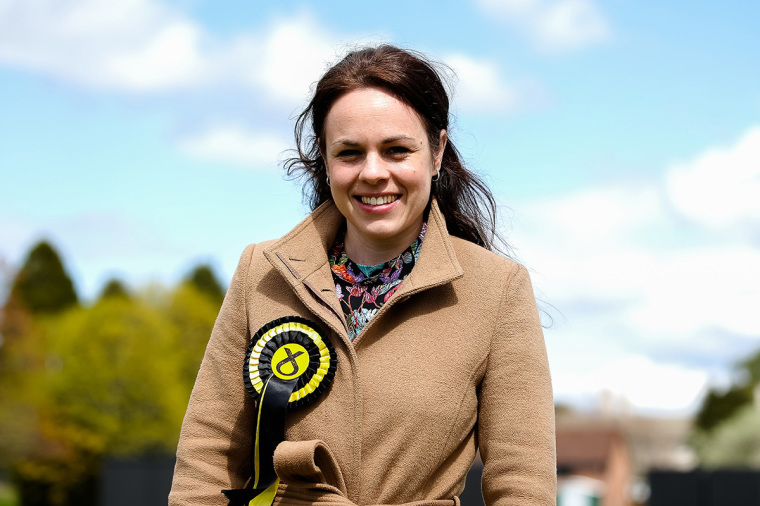 A 32-year-old Evangelical Christian is defending her faith from criticism as she seeks to become the next First Minister of Scotland.
Nicola Sturgeon, who has served as the head of the Scottish government and the leader of the Scottish National Party since 2014, announced her decision to resign on Feb. 15, vowing to remain in place until a successor is chosen. Kate Forbes, a member of the Scottish Parliament representing Skye, Lochaber and Badenoch, who also serves as the Cabinet Secretary for Finance and Economy, launched a campaign to succeed Sturgeon Monday.
Like Sturgeon, Forbes is a member of the Scottish National Party and an advocate for Scottish independence from the United Kingdom. However, she differs from Sturgeon and many other politicians in the U.K. by speaking openly about her Christian faith as a member of the Calvinist Free Church of Scotland and taking a conservative position on hot-button cultural issues. Forbes addressed concerns about her religious beliefs and their impact on her political views in an interview with STV News after announcing her candidacy.
When pressed for her views on same-sex marriage, Forbes indicated that she would have voted against legalizing same-sex marriage if she had been a member of the Scottish Parliament when the issue came before the legislative body nearly a decade ago. While Forbes stressed that she views "equal marriage" as "a legal right" that she would defend "to the hilt," she still sees marriage as "a question of conscience." 
"I would have voted in line with my conscience on a position which is actually echoed across most major faiths in terms of Islam, Judaism and so on," she insisted. "As a practicing Christian, I can tell you what I practice, which is that marriage is between a man and a woman."
Forbes answered in the affirmative when STV's Colin Mackay summarized her position as, "legally, you accept gay marriage, but morally, you don't accept gay marriage." She expressed hope that "that is possible in a pluralistic society."
"Some of your supporters don't agree with you in that and can no longer support you because of that," replied Mackay. Forbes responded by declaring, "I respect their integrity," asking, "Isn't this what this is all about?" 
"Politicians should have integrity to say what they believe, how they believe it and to act on that. And if I can defend their right to hold a view, can they defend my right?"
Reiterating that she vowed to defend "the right to the hilt to live and to love without fear and harassment," Forbes expressed a desire for others to "defend the rights of people of faith to believe and to practice." She credited the pushback she has received over her position on same-sex marriage for bringing to light "a fascinating question at the heart of Scottish political discourse, which is what does liberalism mean?"
"Have we become so illiberal that we cannot have these discussions or some people are beyond the pale?" she inquired. "If some people are beyond the pale, then those are dark and dangerous days for Scotland."
Forbes also elaborated on her views regarding therapy and counseling for unwanted same-sex attraction, which critics deride as so-called conversion therapy: "I would absolutely, wholeheartedly condemn coercion of any kind when it comes to people's sexuality."
When asked for her position on "buffer zones" that prevent people from protesting within a certain distance from an abortion clinic, she said, "I think anyone going for a termination is not doing so lightly."
"I think it's a hugely emotional, challenging thing to do and they should be allowed to do it without fear or harassment," Forbes added. She maintained that buffer zone legislation must be "targeted," expressing opposition to any efforts to subject women to "fear and harassment" while seeking an abortion. 
In the past, Forbes has highlighted her pro-life stance on the issue of abortion. As Evangelical Focus reported, Forbes contended that the "measure of true progress" is how the "unborn and terminally ill" are treated.
More recently, Forbes told media outlets that she "struggled to support the self-ID element of the Gender Recognition Act." The Gender Recognition Reform Bill would make it easier for trans-identified people to legally change their sexual identity on government documents from their biological sex to whatever they choose at the time. Forbes ultimately did not participate in the vote on the measure, which passed 86-39 on Dec. 22. The bill still awaits final approval. 
As Piers Morgan explained on the Fox News opinion show "Tucker Carlson Tonight" last week, the Gender Recognition Act and the rush to affirm people's self-declared gender identity has consequences for society as a whole, highlighting a specific example from Scotland: "A man raped two women and when it came to his trial, he suddenly put his hand up and said, 'I identify as a woman' so that he could get an easier time in a women's prison and be locked away of course with potential new targets."
Tucker Carlson: "Well, preferred pronouns are a signaling message for narcissists and cult members and political activists"

Tucker Carlson and @piersmorgan roast Sam Smith. ???????????? pic.twitter.com/RwB9rYrMTK

— 3sidedstory ???????? (@3sidedstory) February 18, 2023
"He was sent as a woman to a women's prison. Now, there was such a fury over this ... against the First Minister of Scotland, Nicola Surgeon, whose idea this was and she wanted to increase the ability to identify as whatever you want, that actually, in the end, he was taken to where he should have been, which was a male prison." 
Members of the Scottish National Party will have the opportunity to vote for a new leader from March 12-27. Members of the Scottish Green Party, which has formed a coalition government with the Scottish Nationalists, have suggested that they might not want to remain in the coalition if Forbes becomes the new leader. The Scottish Nationalists have 64 out of 129 seats in the Scottish Parliament, meaning the party must form a coalition with another party in order to have the number of seats necessary to form a majority government.
Currently, the Scottish Green Party has seven seats in the Scottish Parliament, the right-leaning Conservative and Unionist Party has 31 seats, the left-leaning Scottish Labour Party has 22 seats, the left-leaning Scottish Liberal Democrats have four seats and one member of the Scottish Parliament does not have a partisan affiliation.