Kathy Lee Gifford Says Anointing of Holy Spirit Was Behind Megyn Kelly Viral Video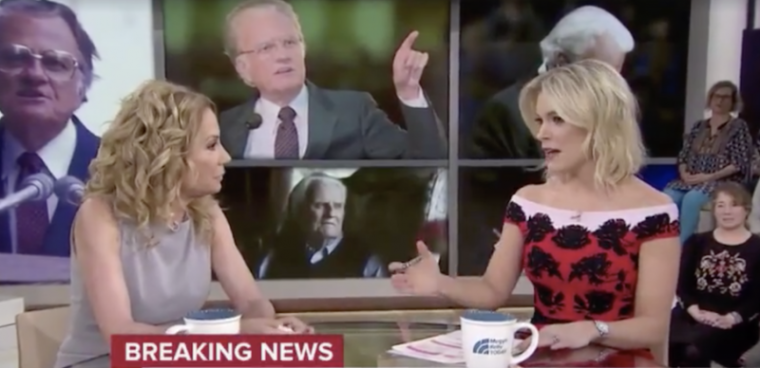 Kathy Lee Gifford says a "Today" show clip of her and Megyn Kelly talking about the late Billy Graham her Christian faith went viral because of the Holy Spirit. 
During an interview with CBN News to promote her book, The Rock, The Road, and The Rabbi, Gifford said the reaction to her testimony has been amazing and she believes it was because both of the ladies were open to the Holy Spirit's leading.

"I just felt the anointing of the Holy Spirit that day on Megyn Kelly's TV show," Gifford said of her Feb. 21 appearance on "Megyn Kelly Today."
"I'd been sharing the Lord with her [Kelly] on a weekly basis at lunch," she continued, noting that faith had been a discussion between the two ladies long before Graham's passing.
She believes their connection made room for the Holy Spirit to move freely when she shared the Gospel message on Kelly's program:
"What just happened for Billy, happened for my husband; happened for my mother; for my father. Everybody that dies in Christ goes immediately into the arms of Christ for eternity. That is the hope of the Christian faith," Gifford said on "Megyn Kelly Today."
She then told CBN, "I'm not ashamed of the Gospel of Jesus Christ, and for too many centuries we have been. Jesus said if you are my followers you will be chastised; you will be persecuted; you'll be hated, but call it all joy!"
Gifford's book, The Rock, The Road, and The Rabbi includes original Greek and Hebrew translations of the Bible combined with her life-changing trip to Israel.
"The rock is Jesus. He's the rock I built my life on. The road is the Holy Land, Israel. And the rabbi is the actual Word of God," Gifford said of her book during a segment on her show.
"What I learned has transformed my life — by studying the original Greek, the original Hebrew and how many myths are out there. I learned that Jesus was not a carpenter, but he was a stonemason because there was nothing but rock in Israel them," she added in a video during a roll in trailer shown for her book," Gifford says in a video about the book.
"I Am Second" also released Gifford's video in February where she speaks of the joy she's found in Jesus Christ amid great loss and immense loneliness.
Follow Jeannie Law on Twitter:
@jlawcp