Keir Starmer apologizes for visiting church that adheres to Christian doctrine on sex after LGBT backlash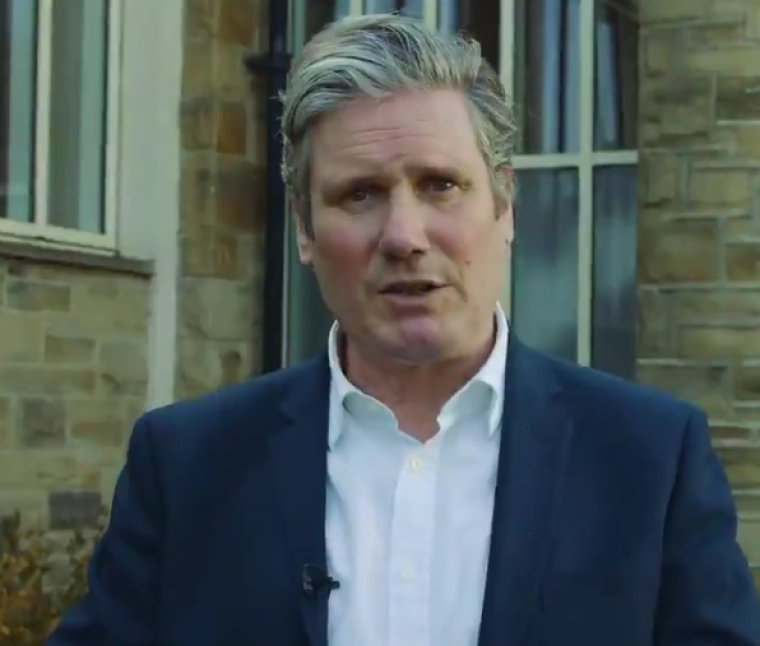 Sir. Keir Starmer, leader of the U.K.'s Labour Party, was forced to apologize for visiting a church on Good Friday that critics have attacked as being "anti-LGBT" for adhering to biblical sexual ethics. 
In a since-deleted video, Starmer praised Jesus House for All the Nations on Friday as being a "wonderful example" of a church serving its community during the coronavirus pandemic, including acting as a vaccination center and running a food bank.
"I recently visited @JesusHouseUK to hear about their crucial work in the community," Starmer announced in a tweet that has also been deleted. "Churches across the country have played such a vital role in the fight against the virus. I hope everyone has a good, restful and safe Easter weekend."
The London-based church has long been attacked by LGBT activist groups, and some journalists, for refusing to kowtow to secular views on homosexuality, same-sex marriage and sexual orientation.
Following backlash from LGBT activists and Labour Party members who identify as LGBT or allies, Starmer said he regretted his decision to visit the church.
On Monday, Starmer said he accepted critics' assertions that his visit to the church was a "mistake" and stressed that he was "not aware" of the church's views on sexuality. 
Starmer issued an apology on Twitter, saying: "I completely disagree with Jesus House's beliefs on LGBT+ rights, which I was not aware of before my visit. I apologize for the hurt my visit caused and have taken down the video. It was a mistake and I accept that."
In 2006, The church's Senior Pastor, Agu Irukwu, joined over 250 clergy in signing a letter expressing their concerns with the then-Labour Party's "Equality Act (Sexual Orientation Regulations)," which they deemed as "Christianophobia."
The letter, published in The Telegraph at the time, said in part:
"We write as pastors on behalf of tens of thousands of black British Christians. Many members of our congregations in London left their home countries to come to England to experience the freedom of living according to their Christian beliefs in a Christian democratic country. ... The regulations force Christians in churches, businesses, charities and informal associations to accept and even promote the idea that homosexuality is equal to heterosexuality."
Starmer's apology came after The Labour Campaign for LGBT+ Rights published a statement describing Jesus House as "a church well known for its connections to conversion therapy, and more broadly anti-LGBT+ views." The group noted that Starmer characterized Jesus House as a "wonderful example of a church serving their community" and slammed his visit to the church as "unacceptable."
The Labour Campaign for LGBT+ Rights maintained that "as a bare minimum [Starmer's] video should be deleted, and a public apology (should be) made by the Leader of the Opposition himself." They added, "We all still believe that the surest way to achieve LGBT+ equality is through the Labour Party, but the events of the last few days have set that cause back."
Following Starmer's apology, the group thanked the Labour Party leader for deleting the video and apologizing for visiting the church: "We are pleased that you have recognized this mistake. ..."
While Starmer's apology drew praise from LGBT activist groups, he received criticism from those on the other side of the aisle. Brendan O'Neill, the publisher of Spiked, wrote an op-ed for the Spectator titled "Starmer Was Wrong to Say Sorry for Visiting Jesus House."
According to O'Neill, "The Christians at Jesus House are guilty of nothing more than holding traditional Christian beliefs." He suggested that a headline from The Guardian titled "Keir Starmer criticized over visit to church where pastor opposed same-sex marriage" might as well read "Starmer criticized for visiting a Christian church that adheres to Christian doctrine."
"This is crazy. Over Easter I also visited a church that opposes same-sex marriage. The Catholic Church. Just a couple of weeks ago the Vatican reiterated that the Catholic Church cannot bless same-sex unions, because God 'does not and cannot bless sin.' So Starmer should never visit a Catholic institution, either?" O'Neill asked.
"In apologizing for visiting Christians who hold biblical beliefs about homosexuality Starmer has insulted vast numbers of people. It is he who has behaved in an intolerant way, because he has essentially said that he will not associate with any religious group that doesn't agree with his views on same-sex issues. To turn your back on good people because they disagree with you on sexual or social matters is a species of dogmatism, too." 
Starmer is not the first politician to face criticism for visiting Jesus House. Last month, Prime Minister Boris Johnson stopped by the church to examine "the incredible work being done by the vaccination teams … bringing people in from the Brent Cross area." He documented his appearance at Jesus House on Facebook, crediting "the efforts of people like these here at Jesus House today" for helping vaccinate 21 million U.K. residents.
As The Daily Mirror reported, Johnson's press secretary Allegra Johnson defended his trip to the church as a "profitable visit where he was able to meet black community leaders and work to increase vaccine take-up and deal with vaccine hesitancy." She also stressed that "this is a government that is fully committed to advancing LGBT rights and championing equality." 
In 2017, Theresa May, who at the time served as prime minister and continues to be a member of Parliament for the Conservative Party, visited the church, which she praised "as one of the most lively growing churches in the U.K." In response to criticism for visiting the church, a Conservative Party spokesperson touted May's "strong record on LGBT+ equality" and commitment to "advancing equality for LGBT+ people at home and abroad."
Public opinion polling has indicated that the overwhelming majority of U.K. residents support same-sex marriage, which became legal in 2014. According to a Pew Research Center survey conducted from 2015 through 2017, 77% of Britons favor allowing same-sex couples to marry. For comparison, support for same-sex marriage has reached 68% in the U.S., according to a poll released by the Public Religion Research Institute earlier this year.