2020 Democrat presidential hopeful Tulsi Gabbard slammed for once supporting traditional marriage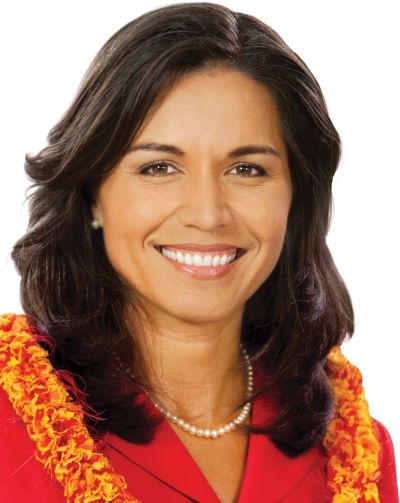 Democrat Hawaii Rep. Tulsi Gabbard announced her intent to run for president in 2020 and has immediately faced heat for her involvement with her father's advocacy group Alliance for Traditional Marriage when she was younger.
The 37-year-old Gabbard, who is the first Hindu and Samoan-American member of Congress, told CNN's Van Jones over the weekend that she plans to seek the party's nomination in the next presidential election.
However, commentators are speculating that her chances of success could be hindered by the fact that as a teen, she worked in the 1990s and 2000s for her father's pro-traditional marriage organization, which some in the secular press are labeling "anti-gay."
The Alliance for Traditional Marriage was aimed at opposing pro-LGBT legislation. The organization spent over $114,000 to help pass an amendment that gave the Hawaii legislature more power to limit marriage to a union between a man and a woman.
CNN reported that her father, Mike Gabbard, also served as the director of Stop Promoting Homosexuality and also ran what CNN called an "anti-gay radio show."
A slew of headlines has accused Gabbard of having a "homophobic" past, due to her previous support for marriage.
In a statement provided to CNN, Gabbard said she regrets the positions she took in the past and the things she has said in defense of marriage.
"I'm grateful for those in the LGBTQ+ community who have shared their aloha with me throughout my personal journey," Gabbard's statement reads.
As Roll Call pointed out, Gabbard had previously criticized Democrats in 2004, when she was only 23 but already had two years of experience in the state legislature, for a mostly pro-LGBT platform that she said at the time gave too much credence to "a small number of homosexual extremists."
In her statement to CNN, Gabbard continued by listing the number of pieces of legislation that she has worked on that had the support of LGBT activists.
"Much work remains to ensure equality and civil rights protections for LGBTQ+ Americans and if elected President, I will continue to fight for equal rights for all," her statement said.
Although Gabbard's views on marriage and sexuality have shifted since the 2000s, Gabbard seems to have a broader interpretation of religious freedom rights than others in the Democrat Party.
Earlier this month, Gabbard wrote an op-ed in which she criticized (not by name) two Democratic senators (California's Kamala Harris and Hawaii's Mazie Hirono) for questioning a Trump nominee's connection to the pro-family and pro-life Catholic fraternal organization Knights of Columbus.
"While I oppose the nomination of Brian Buescher to the U.S. District Court in Nebraska, I stand strongly against those who are fomenting religious bigotry, citing as disqualifiers Buescher's Catholicism and his affiliation with the Knights of Columbus," Gabbard wrote.
"If Buescher is 'unqualified' because of his Catholicism and affiliation with the Knights of Columbus, then President John F. Kennedy, and the 'liberal lion of the Senate' Ted Kennedy would have been 'unqualified' for the same reasons."
Gabbard's criticism did not sit well with many Democrats, including Hirono.
"It is unfortunate that Congresswoman Gabbard based her misguided opinion on the far-right wing manipulation of these straightforward questions," Will Dempster, Hirono's spokesman, said in a statement provided to media.
Gabbard was also criticized online.
Jill Filipovic, a fellow with the Washington-based think tank New America who is also an attorney and writer, called Gabbard a progressive "fraud."
"Tulsi Gabbard is accusing female senators of anti-Catholic bigotry for (rightly) questioning a judicial nominee's membership in an extreme right-wing anti-choice anti-LGBT all-male organization," Filipovic wrote on Twitter.  "Gabbard is not a progressive, she's a fraud."
Gabbard has also been criticized for her support of the Bashar al-Assad regime in Syria. In 2017, the Washington Post labeled her "Assad's mouthpiece in Washington."