Congressional Democrat blasts party's 'religious bigotry' over KoC, 'dogma lives loudly' remarks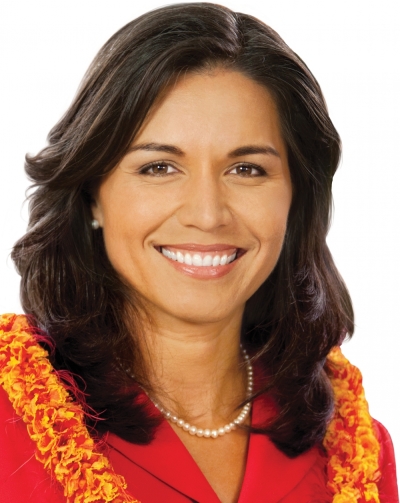 A Democrat congresswoman considering running for president in 2020 is criticizing members of her own party for their apparent hostility to certain faith convictions, particularly among judicial nominees.
In a Tuesday editorial for The Hill, Rep. Tulsi Gabbard, D-Hawaii, argued that some of her colleagues had weaponized religion and are playing a dangerous political game.
"Standing up for freedom of religion for all people is as critical now as it's ever been — hatred and bigotry are casting a dark shadow over our political system and threatening the very fabric of our country," she opined.
Gabbard, who is Hindu, highlighted the recent questions that were asked of Brian Buescher, a Catholic nominated to be a judge on the U.S. District Court in Nebraska. While she opposes his nomination, the inquiries made by Senators Mazie Hirono, D-Hawaii, and Kamala Harris, D-Calif. were "fomenting bigotry," she said, though she did not mention the legislators by name.
Harris and Hirono recently challenged Buescher's suitability for a federal judgeship due to his membership in the Catholic fraternal service organization Knights of Columbus.
If he is "unqualified" because of his religion and his affiliation with a faith-based service organization, Gabbard said, "then President John F. Kennedy, and the liberal lion of the Senate Ted Kennedy would have been unqualified for the same reasons." 
Hirono claimed the Catholic group has taken "extreme positions" including affirming belief in traditional marriage, asking Buescher in written questions if he intended to end his membership with the organization to avoid any appearance of bias should he be confirmed.
"While I absolutely believe in the separation of church and state as a necessity to the health of our nation, no American should be asked to renounce his or her faith or membership in a faith-based, service organization in order to hold public office," Gabbard said.
"We must call this out for what it is — religious bigotry. This is true not just when such prejudice is anti-Catholic, but also when it is anti-Semitic, anti-Muslim, anti-Hindu, or anti-Protestant, or any other religion."
The Hawaii Congresswoman noted that this was not the first time in recent memory where Democrats have displayed hostility to President Trump's judicial nominees on the basis of their faith. During the 2017 confirmation hearing for Judge Amy Coney Barrett, who now sits on the U.S. Court of Appeals for the Seventh Circuit, Sen. Dianne Feinstein expressed concern over Barrett's deep faith.  
"When you read your speeches, the conclusion one draws is that the dogma lives loudly within you, and that's of concern when you come to big issues that large numbers of people have fought for, for years in this country," Feinstein said at the time.
In her op-ed, Gabbard argued, "No American should be told that his or her public service is unwelcome because the dogma lives loudly within you as Sen. Dianne Feinstein (D-Calif.) said to Amy Coney Barrett during her confirmation hearings in 2017 to serve as U.S. Circuit Court judge in the 7th Circuit."
"If we can all agree that we do not want prejudice and bigotry to rule our nation, then we must stand united to denounce it whenever it raises its ugly head."
Elected officials who bait people with religion "are playing with fire," she added.
"They are sacrificing the well-being, peace and harmony of our country to satisfy their own political ambitions for partisan political interests."
Her words garnered her praise from across the aisle.
"Tulsi Gabbard is right to call out religious bigotry. We dont have to agree on everything in a First Amendment society — thats the point," Senator Ben Sasse, R-Neb., commented Wednesday on Twitter.
"Three cheers for saying some basic American stuff."
Less thrilled was Senator Hirono, who through a spokesperson argued Gabbard had misrepresented the senator's approach to screening potential federal judges.
"Senator Hirono, asks all judicial nominees — particularly those who have expressed very strong personal ideological views in conflict with Supreme Court precedent — if they can be fair. She asked Mr. Buescher, who has a clear record of anti-choice activism, whether he could separate his personal beliefs from decisions he would make if confirmed for a lifetime appointment on the federal bench," the spokesperson said, Hawaii News Now reported Tuesday.
"Over the past two years, the Senator has been attacked by right wing ideologues for her examination of Donald Trump's ideologically-driven nominees to the courts. It is unfortunate that Congresswoman Gabbard based her misguided opinion on the far-right wing manipulation of these straightforward questions."