Ken Ham Pleased With 1.1 Million Ark Encounter Visitors, but Says Attendance Limited by Hotel Space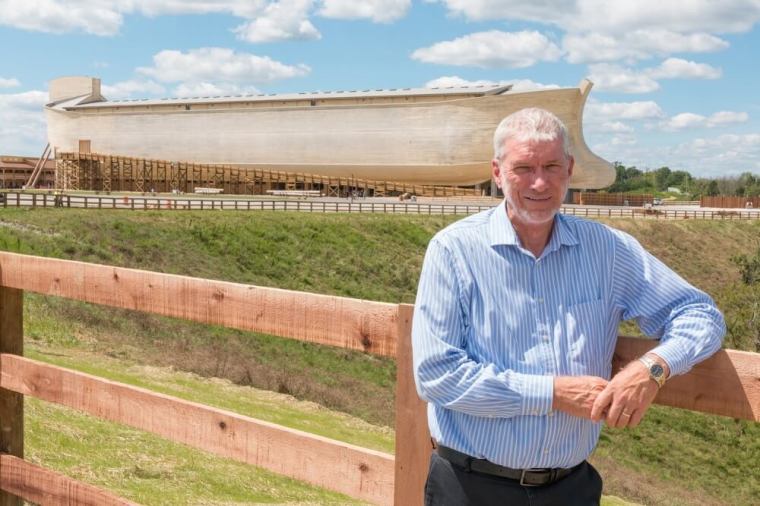 Leading Young Earth Creationist and Answers in Genesis President Ken Ham says the 510-feet Noah's Ark replica and theme park, Ark Encounter, would have greater attendance and economic impact on the surrounding area of Grant County, Kentucky, if more tourist-related businesses were to open nearby.
In an op-ed published by Cincinnati.com on Sunday, the 65-year-old Ham laid out reasons why attendance at the Ark Encounter, which opened a year ago on Friday, and its economic impact on the small Kentucky town that is home to the project, would be even greater but for is being limited by the lack of hotels, restaurants and various other businesses in the area.
Ham said Answers in Genesis, the ministry that owns both the Ark Encounter in Williamstown and the Creation Museum in Petersburg, Kentucky, "confidently predicts" that the Ark Encounter will have greater attendance in 2017–2018 than it did in its inaugural year, which has still far surpassed what many had expected. However, he explained that prediction is based on the condition that "we see more entrepreneurs building additional hotels to accommodate our visitors."
"Interestingly, a state-commissioned study [from 2014] predicted that if the Ark Encounter were a themed attraction featuring our creationist beliefs (and it does), it would draw 325,000 visitors the first year. The Ark reached that figure in less than three months," Ham wrote. "While tourism-related businesses are thriving in Grant County, especially in the city of Dry Ridge, more tourist facilities are desperately needed to handle the Ark crowds. The lack of hotel rooms limits us to 7,500 to 8,000 guests visiting the Ark in a day."
Ham added that Williamstown, which has a population of about 4,000, does not have the number of tourist-related services that the city of Dry Ridge has.
"[S]o it needs more businesses like hotels and restaurants if it hopes to experience the growth that Dry Ridge is now enjoying," Ham wrote. "Thankfully, more development is coming to Grant County. The mayor of Dry Ridge tells us that three new hotels and two restaurants are about to be built because of the Ark. Even during the winter months when Ark attendance is not as huge (which is the case for almost any attraction), the Grant County Tourism Development Office reported that hotel occupancy in the county was an amazing 97 percent! The office acknowledged it was almost all due to the Ark's presence."
Ham also said the Creation Museum is receiving visitors at a "record rate" and that there are now plans to add a parking lot that will accommodate at least 1,200 automobiles.
Additionally, Ham said that as many as 40 buses arrive from several states to the Ark Encounter on "a given day."
Ham's op-ed comes as secular media outlets and bloggers, such as Patheos.com's "Friendly Atheist," Hemant Mehta, have claimed that the Ark's attendance numbers are not as great as Ham is making them out to be.
Ham has defended the Ark against reports of low attendance, arguing in a blog post last month that such reports are attempts by the mainstream media, blog sites and secularist groups to "spread propaganda to brainwash the public into thinking our Ark Encounter attraction is a dismal failure."
Although Ham said in his op-ed that the Ark Encounter's first year attendance exceeded the 2014 state-commissioned survey's estimate of 325,000, Mehta noted in a recent blog post that Ham initially estimated in 2014 that the Ark would attract nearly 2 million guests per year.
Mehta added that Ham was a bit on the defensive when discussing Ark attendance with The Gospel Herald last month. Ham suggested that first year attendance will approach about 1.1 million.
"The original projection of the Ark Encounter — 1.1 million to 2.2 million in attendance — were in normal years, and we haven't had a normal year yet," Ham reasoned. "We won't have one until our second year. And, as we mark our first anniversary, we'll hit the low end of the estimated guest number, which is absolutely amazing for an abnormal year."
Official attendance numbers won't be made public by the state until later this summer.
"We won't get 'official' numbers until this summer, when the state of Kentucky is supposed to give Ark Encounter the first 'rebate' check for bringing in tourism to the state," Mehta wrote. "That will be publicly available information and it should give us the first attendance count that isn't coming from someone on Ark Encounter's payroll. Until then, these estimates are all we have."