Ken Ham Invites Bill Nye to Tour Ark Encounter, Life-Sized Noah's Ark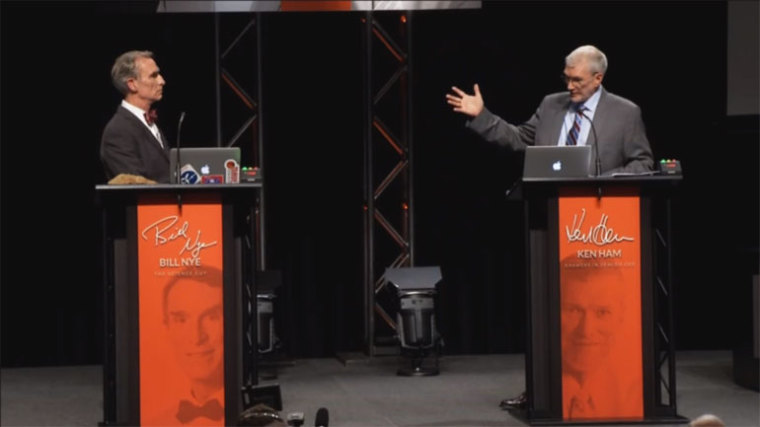 Creationist Ken Ham has invited Bill Nye, known as "The Science Guy," to tour the Ark Encounter in Kentucky, the life-size Noah's Ark replica that is due to open on July 7, explaining that he wants to be friends with Nye, not adversaries.
"I want to publicly invite Bill Nye to come visit the Ark, I want to show him personally, or just show him where the entrance is, and let him go on his own, whatever he wants to do," Ham said in a video message posted on Facebook on Monday.
"I'd be thrilled to be able to show Bill Nye through the Ark, and so I'll be interested to know if people out there think Bill Nye will take up my invitation. I hope that he does," he added.
Nye was recently interviewed on the Australian national TV network Channel 7, where he spoke out against a creationist view of the world.
"You can believe whatever you want, but the Earth is not 6,000 years old, and we're not gonna teach that in science class. Evidence for evolution is overwhelming," he said.
When asked about Ham, Nye added: "He can run around influencing all the adults that he wants, but the kids would be scientifically illiterate.
"I'll be Ken's nemesis if that's what he wants," he said.
The Channel 7 segment also included a preview of the Ark Encounter and the Genesis-based exhibits it has to offer for guests.
Ham addressed that comment in his latest video, explaining that he would rather be friends with Nye instead.
"Please don't be my nemesis, please let's be friends," the Ark Encounter CEO said.
"We have different worldviews, and you know it's interesting, in the Bible it says 'faithful are the wounds of a friend.' And so I'm gonna challenge Bill Nye's evolutionary worldview, but as friends we can do that — he can challenge me, and I can challenge him. But we can still be friends, even though we have totally different worldviews."
Two years ago in February 2014, Ham and Nye took part in a major debate at the Creation Museum, exploring whether the creationist worldview holds up to science.
While Ham sought to show evidence from the Bible that evolution is wrong, Nye said he participated in the debate to raise awareness for what he finds "dangerous information" about the natural world being pushed on some classrooms.
"This is deeply important to me," Nye said at the time. "And I hope that in the coming years, awareness will be raised and voters and taxpayers will not let these people with these extraordinary, wrong views about nature — not be allowed to try to get on school boards."
The two have continued sparring on many other separate occasions, and back in January 2015, Nye sent Ham a copy of his book, Undeniable, calling on the creationist to join "the world of reason."
Ham responded by sending Nye a copy of a book of his own, Inside the Nye Ham Debate, released by Answers in Genesis, and said:
"For Bill, Here's earnestly hoping you find THE WAY someday. You would be welcomed in the world of the redeemed. We could celebrate the salvation together. John 14:6 — Jesus said, 'I am the way, the truth and the life.'"