Ken Ham Says Creationism Will Outlive Bill Nye After Nye Claims Creationists Are 'Going Out of Business'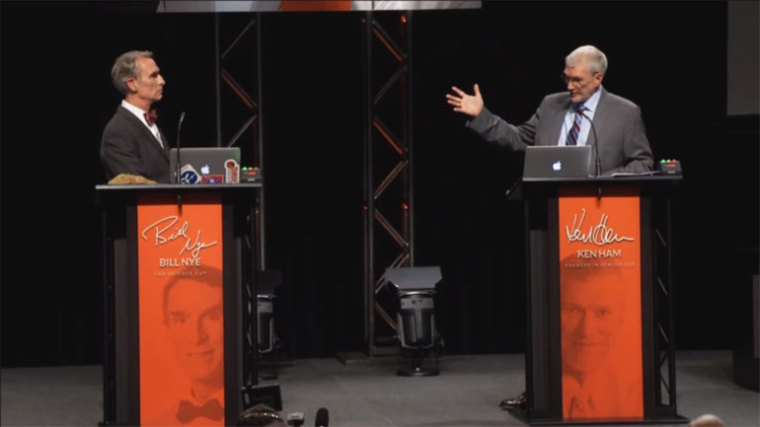 Creation Museum President and CEO Ken Ham has responded to claims by Bill Nye "The Science Guy" that creationism will "go out of business" in the next 20 years by stating that it will outlive Nye and others like him.
"Will biblical creation be dead in 20 years? Will secularists be successful in stamping out the message of the true history of the world and replacing it with atheism? In a word — no. Biblical creation is going to outlive Bill Nye and others like him," Ham wrote on his Answers in Genesis blog.
Ham refers to comments Nye made earlier in October when he appeared on Global News' "The Morning Show," and said: "In another 20 years, those guys will be just about out of business."
Nye, who is also the CEO of science-advocacy group The Planetary Society, said that evolution is a "fundamental idea in all of life science." He also spoke out against teaching children creationism, or a literal interpretation of the Genesis creation account in the Bible.
"In the United States there's been a movement to put creationism in schools — this sort of pseudoscience thing — instead of the fact of life," Nye said. "People fight this fight in court constantly, and it wouldn't matter except we need people to solve the world's problems."
Ham and Nye participated in a public debate on evolution in February, which was watched online by an estimated 3 million people and garnered significant media attention.
In his blog post, Ham compared criticism of creationism to other attacks on Christian beliefs, but said that "Christianity and God's Word aren't going anywhere, neither is biblical creation."
"Biblical creation is how God said that He created, and God does not lie or deny Himself (Titus 1:2). The only way to destroy or kill biblical creation is to get rid of Christianity, but as history plainly shows, that's not going to happen," the Creation Museum CEO said.
He added that his organization will continue to pray for Nye and other secularists to "turn from their worship of naturalism" and turn to Jesus Christ instead.
Ham and Nye have sparred on a number of occasions following February's debate, with the Planetary Society CEO revealing in April that he agreed to debate Ham in order to expose why creationist beliefs are "bad for humankind."
"I held strongly to the view that it was an opportunity to expose the well-intending Ken Ham and the support he receives from his followers as being bad for Kentucky, bad for science education, bad for the U.S., and thereby bad for humankind — I do not feel I'm exaggerating when I express it this strongly," Nye wrote in the May/June volume for The Committee for Skeptical Inquiry.