Kids at Texas church pack 9,000 meals for the needy for Vacation Bible School project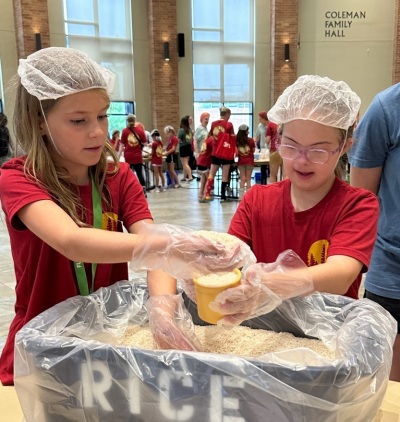 A group of elementary school-aged children, along with a few adult volunteers, helped package 9,000 meals for the needy, as part of a global effort to combat hunger.
Kids at First United Methodist Church Richardson, Texas, packed the meals as part of the congregation's Vacation Bible Camp festivities earlier this month, with the church partnering with the group Rise Against Hunger.
FUMCR Communications Director Kristen Ceaser told The Christian Post on Monday that the children packed the 9,000 meals "with a little extra help from church staff."
"We've hosted similar events in the past which allow multi-generations to serve alongside each other while making a significant impact in the community. This time our VBC campers were the ones taking the lead," she said.
"We're passionate about putting our faith in God into action by serving others. This can look like reading at a local school, serving a meal at a nonprofit, or helping pack meals. It's our hope that others will find ways to connect and serve their communities."
Based in Raleigh, North Carolina, and originally known as "Stop Hunger Now," Rise Against Hunger often oversees large-scale meal-packing events at churches in the United States.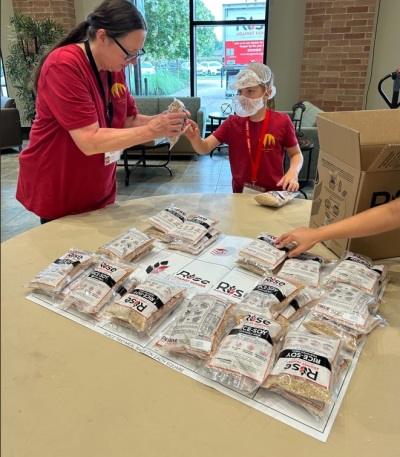 Not only does the nonprofit oversee the massive distribution of meals, according to its website, but it also works to advance longer-term solutions to regions of the world dealing with food shortages.
"Through locally led agriculture and income-generating programs, we bolster crop production and incomes by promoting improved agricultural methods, business skills and market access," stated the group on its "Our Model" webpage.
"Through income-generating activities, we help individuals increase their earning potential and consistent access to food. Within three years, we are aiming for hundreds of thousands of households affected by food insecurity to have the knowledge, skills, and assets necessary to ensure their food and nutrition security."
In 2021, the New Jersey-based megachurch Liquid Church partnered with Rise Against Hunger to package approximately 800,000 meals, specifically to go to those in need in Haiti.
Liquid Outreach Director Kristin Flynn told CP in an interview at the time that the event was "one of those events that folds everybody in," from "little kiddos to soccer teams to family from out of state."
"We can all do our part, we can all come together and pack these meals for a good cause. We can agree upon that right now, even though things are a little divisive," Flynn said. "What I saw … was just a lot of people coming together for one really good purpose, which was to pack these meals so that people will not go hungry."