Kim Davis Tells Her Side of the Story, Says Mainstream Media Painted 'Unfair' Picture (Exclusive)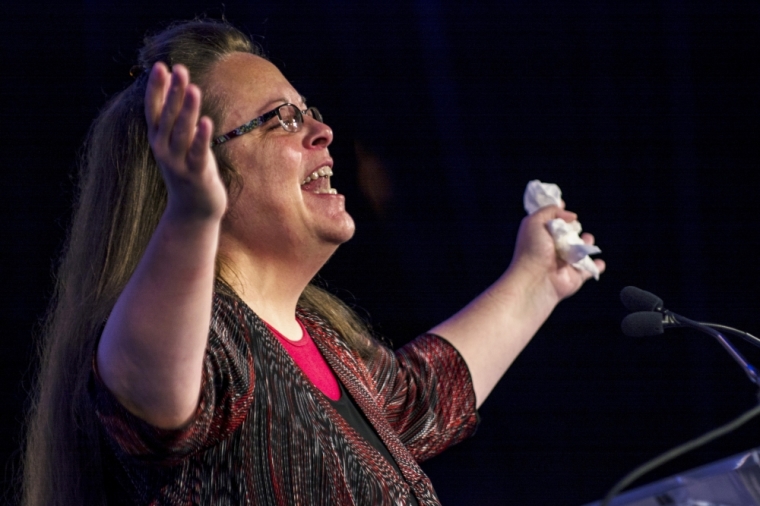 NASHVILLE — Kentucky county clerk Kim Davis, who in 2015 spent six days in jail for her refusal to issue marriage licenses to same-sex couples because of her conservative Christian beliefs, is now telling her side of the story — the side she says the media refuses to tell.
"The only mean or negative thing I ever said to a same-sex couple who wanted a marriage license was 'No,'" Davis told The Christian Post at the National Religious Broadcasters conference. "Instantly, the mainstream media painted an unfair picture of me as a terrible person — and most of the time, they didn't even talk to me."
Davis is setting the record straight in her new memoir, Under God's Authority: The Kim Davis Story. Once upon a time, she said, she wasn't a "very nice person," living an "ungodly life" that contradicted the faith she now professes. Thankfully, she said, God redeemed her story and used her past mistakes to bring glory to Himself.
"I want people to understand that my story is not so much about all of the events that happened from June of 2015 up until now, but it's a redemptive story, a story of God's love and grace transforming someone who was completely broken," she said. "He changed the desires of my heart and changed the way I think. I want people to know that God is able to do that."
After becoming a Christian, Davis said she prayed a simple prayer: "Lord, use me to be a vessel for you." God, she said, answered her prayer in ways she never could've imagined.
"Ironically, it was after I submitted my life to Christ, after I sought to live by biblical commands, that the controversy started," she said. 
Davis, who describes herself as a "simple person who always hated attention," made national headlines when she cited her Christian beliefs as the reason for her refusal to sign marriage licenses for gay couples. The soft-spoken county clerk was subsequently jailed for five days for defying a U.S. federal court order to issue marriage licenses to all legally eligible couples.
"I love the homosexuals," she said. "I hate their sin, but I love that person. I can separate the two. I can love the soul and hate the sin. That's what God says we are to do. I simply couldn't compromise on my beliefs."
Still, the Apostolic Christian said the hatred she continues to receive over her decision is "ongoing."
"I get emails and you can usually tell by the header if it's going to be a good email or a bad email," she said. "If it's bad, I put it into a 'hate file' because I don't want to feed that fire or frenzy because I want to remain positive and I want positive things in my life."
Although she was criticized by the mainstream media, Davis' refusal to compromise on her beliefs — that marriage is only between one man and one woman — was praised by conservative Christians, and earned her the "Cost of Discipleship Award" in 2015 by the Family Research Council and the National Religious Broadcasters President's Award in 2016.
Davis said that amid all the attention she's received over the last few years — both positive and negative — God's grace has remained "strong and prevalent."
"His presence was there every single day," she said. "I would still go into work whistling and singing with a smile on my face because I knew He was by my side even amid all the media frenzy. I had such peace because I knew God's grace is sufficient."
The county clerk, who will seek another term in November, said she hopes her story encourages others to stand up for their beliefs and understand that God is able to redeem even the worst of sinners.
"The main thing that I would suggest to a millennial or any other Christian that is unsure of how to stand up for their beliefs is, mean what you say, say what you mean, and say it with love," she said. "And remember, God is able, and God will use you for His glory."
"You have to trust Him," she continued. "If you never step out in faith, your faith never grows. I want to be an encouragement to those who have a sordid past like I have, that when you're sold out to God, there's no limit to what He can do in you and through you."