Kim Jong Un Keeps Teenage Sex Slaves, Orders Children to Watch Executions: North Korean Defector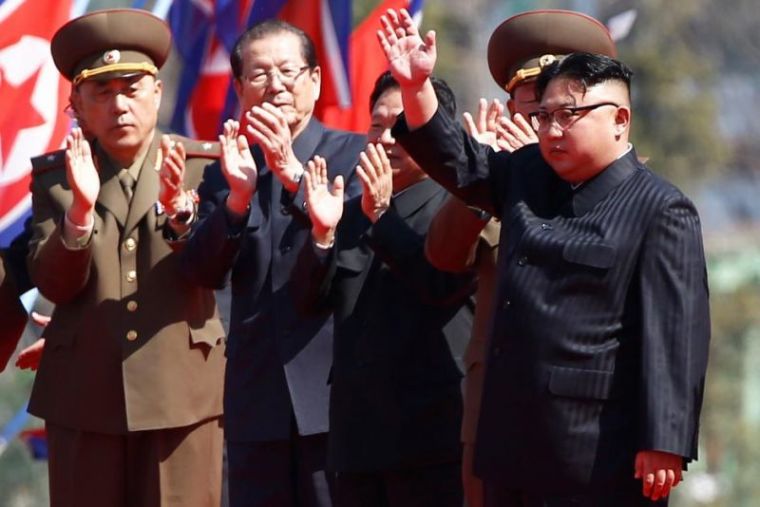 A North Korean defector alleged that dictator Kim Jong Un keeps teenage sex slaves whom he takes from schools, enjoys a luxury lifestyle while his people starve, and forces children to watch public executions.
The accusations surfaced in an interview published on Tuesday by the Mirror, which shared the story of 26-year-old Hee Yeon Lim, described as an ex-regime insider.
Lim, who now resides in Seoul, South Korea, said that she was able to flee with her mother and younger brother from North Korea's Pyongyang in 2015.
Her father, Colonel Wui Yeon Lim of the Korean People's Army, who died at 51, was permanently on-call, and it was his job that gave her exclusive insight into Kim's regime.
She spoke of one instance when she and other classmates were ordered to watch the public execution of 11 North Korean musicians accused of making a pornographic video.
"The musicians were brought out, tied up, hooded and apparently gagged, so they could not make a noise, not beg for mercy or even scream," she said.
"What I saw that day made me sick in my stomach. They were lashed to the end of anti-aircraft guns," the defector continued.
"There were around 10,000 people ordered to watch that day and I was standing 200 feet from these victims. A gun was fired, the noise was deafening, absolutely terrifying and the guns were fired one after the other. The musicians just disappeared each time the guns were fired into them. Their bodies were blown to bits, totally destroyed, blood and bits flying everywhere."
Tanks were then made to grind over the remains of the victims.
"I felt desperately ill from witnessing this. It was so horrible and I could not eat for three days as it made my stomach churn," Lim shared.
She noted that growing up, she was told that Kim was "like a god," but when she met him, she found him "terrifying, really scary, nothing god-like about him."
Despite being married and having three children, Kim also kept sex slaves, she said.
"Officials came to our schools and picked out teenage girls to work at one of his hundreds of homes around Pyongyang.
"They take the prettiest and ensure they have straight, good legs."
"They learn to serve him food like caviar and extremely rare delicacies. They are also taught how to massage him and they become sex slaves," Lim added.
"Yes, they have to sleep with him and they cannot make a mistake or object because they could very easily simply disappear."
What is more, despite the poverty that the 25 million or so North Koreans live in, Kim apparently hides out in "exquisite bolt-holes" which come with swimming pools, beautiful gardens and fountains.
Talking about her father, she said that he was required by law to sleep in his uniform every night. She added that every adult is required to do the same at times of high tension, such as following a missile test.
"He earned next to nothing but he received bribes all of the time because of his position," Lim said.
"He never talked about military matters. Just one wrong word even to a member of his family and you could be killed. The military is everything there."
Other defectors have, meanwhile, opened up about North Korea's notorious prison camps, where political prisoners, including Christians, are kept and sometimes executed merely for their faith.
"[In the camps] you are forced to labor and you live a life no better than a dog or a pig," an anonymous defector told Sky News in August, adding "it is better to die."
"If you criticize Kim Jong Un you will go to a prison camp and not come back," the man said. "In North Korean society you can do everything but criticize the Kim family. If you are caught, even if you have money, you won't be able to survive. It's a frightening system."
Persecution watchdog Christian Solidarity Worldwide told The Christian Post in March that there are roughly between 100,000 to 200,000 people kept in such camps, "subjected to the worst forms of torture, slave labor, denial of medical care, sexual violence, and in some instances execution."