Kirk Franklin Invites Westboro Baptist Church to Protest His Concerts After Picketing Orlando Victims' Funerals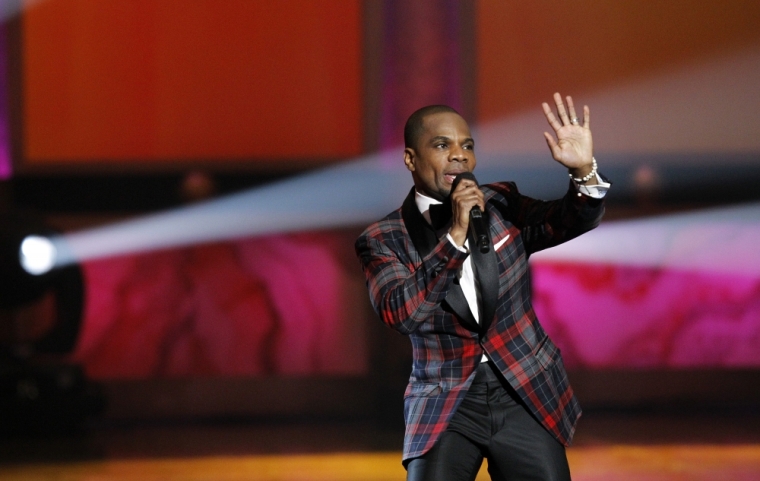 Kirk Franklin has invited the Topeka Kansas-based Westboro Baptist Church to picket one of his concerts after accusing the group of being godless for protesting the funerals of Orlando terror attack victims.
"So a church from Kansas called Westboro is planning on picketing the funerals of two men killed in the Orlando massacre. ... Let me address," Franklin tweeted to his 1 million followers on Friday. "Whoever your pastor is, he is the dumbest, most hateful ignorant man to ever lead ANY church. There is NO form of Godliness in this act ... and a continuing issue of why the world sees us as hateful and judgmental."
"You fill it with hate and disease. PLEAS PLEASE respond! Please show up to one of my concerts protesting, PLEASE! We love Jesus, but ... Just pleas come. This is a sad day for the faith I love. ... Read the ENTIRE Bible, and let those parents bury their children. #WackChurch," he added in follow-up tweets.
The Westboro Baptist Church protest group, which isn't affiliated with any Baptist denomination, is known for protesting outside churches that provide counsling for people who are divorced, American soldiers' funerals, and even relaity TV stars from "Duck Dynasty."
Franklin's invitation was met with a response from the group in a YouTube video titled "God Sent the Shooter to the Orlando Gay Nightclub."
"Make no mistake. God sent the shooter," Ben Phelps says in the video. "He appointed this thing. He sent you a message."
Phelps cited Micah 6:9, Amos 3:6 and Luke 13:2-5 to defend his beliefs. "Unless you repent, you will all likewise perish."
The Westboro Baptist Church also responded to Franklin on Twitter, asking: "which one of these Bible words that our elder Ben speaks is 'hateful' or 'ignorant' please, @kirkfranklin?"
Franklin decided to continue the conversation.
"He's not exegetical. He isolates the text and doesn't include the heart and character of Christ," Franklin responded. "His anger was ALWAYS against leaders. Not the sheep."