Kong Hee Praises Amazing Growth of Christian Megachurches in South Korea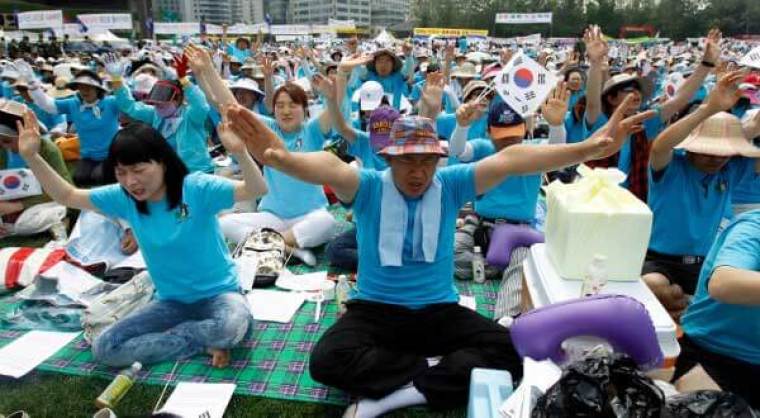 City Harvest Church Pastor Kong Hee has praised the major growth of Christian megachurches in South Korea, noting that the key to such continued success is prayer.
"One of the greatest revivals in the last 100 years was, and still is, in Korea. Just imagine — at one time, six of the 10 largest churches in the world can be found in the city of Seoul. Until today, Yoido Full Gospel Church remains the largest congregation in the world with 830,000 members," Kong said on his Facebook page.
"They have been consistently baptizing 1,000 new converts every month! If you ask any Korean church what is the key to their success, the answer is unanimous — PRAYER!" he added.
The Houston Chronicle has also noted in past reports thateven  America's large megachurches cannot compete with the numbers international churches pull in, with the Pentecostal Yoido Church enjoying the support of close to 830,000 members in Seoul.
The CIA Factbook notes that Christianity has been growing rapidly in Korea, and now Christians make up the largest share of the religious population in the country, including 31. 6 percent of the total population.
Kong, whose CHC congregation is one of the largest in Singapore, said that whenever he goes to Seoul, one of the main highlights for him is joining other Christians in early morning prayer:
"There is something powerful when we pray early in the morning. When David was feeling spiritually dry, he said, 'Early will I seek You; my soul thirsts for You' (Psalms 63:1). This is how Isaiah described the moving of the Holy Spirit in his life: 'He awakens Me morning by morning, He awakens My ear to hear' (Isaiah 50:4). Even for our Lord Jesus Christ, 'in the morning, having risen a long while before daylight, He went out and departed to a solitary place; and there He prayed,' (Mark 1:35)."
The pastor added that early morning prayer allows people to worship God with an "undivided heart."
"We are softer and more pliable in His hands to confess and repent from our sins. We can meditate in the Word, listen to His voice and obey Him. Most of the great men and women of God in the Bible and Church history were early risers who broke through in the spiritual realm through early morning prayer," he said.
Websites that track congregation numbers for international megachurches, such as the Leadership Network, also point out that several of the largest churches in Asia are all based in South Korea, with Yoido at the top.
Kong, meanwhile, continues to face a long-standing court case in Singapore, where late last year he and five other CHC members were convicted and sentenced to jail for the misuse of close to $35-million in church donations.
Kong has denied all wrongdoing and has appealed against his eight-year prison sentence, though the prosecution has also appealed, asking that the convicted be given harsher punishments.