Ky. Art Teacher Apologizes for Controversial Project Allowing Students to Walk on US Flag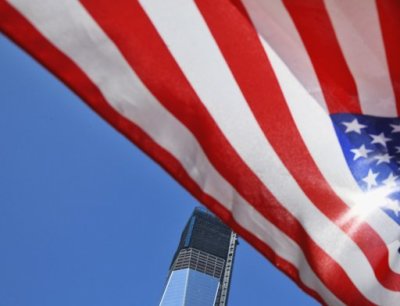 A public high school teacher in Kentucky has issued an apology for supporting a controversial student-led art project in which the U.S. flag was placed on the ground for students to walk on.
McCracken County High School art teacher Shand Stamper said her actions were not politically motivated and the project was not assigned by her, but was selected by her students.
Art history students in Stamper's class wrote essays about different pieces of artwork, and then chose to either recreate the artwork, or express their selected piece through spoken word or performance art.
The Kentucky School Board Association (KSBA) has released excerpts from an apology letter that Stamper sent to Superintendent Nancy Waldrop, in which she explains that she's distraught over her decision that has upset the community, veterans, and brought negative attention to the school district.
"I love our flag and the nation it stands for. I love the freedom I enjoy because of our brave veterans. I feel sick and deeply sad that through my actions I have dishonored these men and women and also poorly represented you all," Stamper wrote in the letter.
The display was a recreation of "Dread" Scott Tyler's 1988 art instillation, What is the Proper Way to Display a U.S. Flag? That was part of his exhibit American Newspeek…Please Feel Free?. The students' exhibit included an American flag placed on the ground outside the classroom with a music stand holding a notebook that was placed on top for students to write about their feelings toward the flag.
The students' art display was outside the classroom for 30 minutes to give them ample time to discuss the project before Assistant Principal Jon Reid was scheduled to pick up and fold the flag.
"My mistake was saying to my students: this is your choice and I'll support your decision," Stamper further wrote. "My intention was for my students to talk intellectually about what they were doing and why."
She continued: "My lapse in judgment was based on it being a re-creation of a historic piece; if a student asked to do an art project like that, I would of course have said no."
Stamper also added that she should "have gotten permission before proceeding with a lesson that could be deemed offensive." And said she is "devastated" that her decision brought "outrage and negativity" toward the school and school district.
The original instillation was just as controversial in 1989 when it was displayed at a student exhibition at the School of the Art Institute of Chicago, where Tyler's display included a photograph of the U.S. flag, with a mounted shelf below it and the flag on the ground. Those who attended the exhibit were encouraged to step onto the flag and write their responses to the question: "What is the Proper Way to Display a U.S. Flag?"
Then President George H. W. Bush called the display "disgraceful;" and the exhibit also led members of Congress to vote in favor of the Flag Protection Act of 1989. However, a 1990 decision by the U.S. Supreme Court found that the desecration of the U.S. flag, specifically flag burning in the case United States v. Eichman, is a protected form of expression under the First Amendment.
At McCracken County High School, however, Principal Michael Ceglinski was able to turn the public's outrage into a teachable moment on Friday when he hosted a ceremonial retirement for the flag. The event was attended by students, teachers and veterans.
Ceglinski said his effort was to turn the situation into something positive, and to create a learning experiecne for the students. The flag was cut and grouped by color, and then placed in a burn barrel. "We wanted to make sure that we ended this in the right way. It obviously got started on the wrong foot," he told WPDS-TV.
An investigation by the school district is ongoing, but Stamper has not yet faced disciplinary action, nor has she been terminated by the school district, according to KSBA.