Ky. Pastor Takes Heat After Wife's Column Criticizes So. Baptist Convention's Stance on Boy Scouts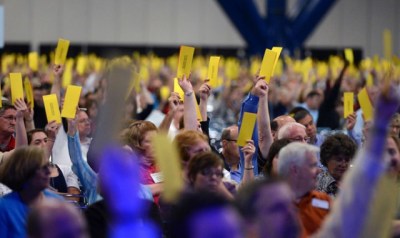 Bill Thomas, the minister of music and associate pastor of First Baptist Church in Madisonville, Ky., might be resigning from his position following a recent uproar over his wife's commentary about the Southern Baptist Convention's approval of a resolution that expresses the denomination's "opposition to and disappointment in the decision of the Boy Scouts of America to change its membership policy" to allow openly-homosexual members.
Thomas' wife, who's a humor columnist for the Messenger newspaper in Madisonville, told Savannah Oglesby, a staff writer for the publication that she had no inclination that her comments would jeopardize her husband's position at the church.
In her June 19 column, titled "Southern Baptist Convention rejects Boy Scouts" Thomas wrote: "[T]he Southern Baptist Convention has rejected the Boy Scouts of America. Thank goodness. It's about time. They've already rejected the Democratic Party, Disney, the Teletubbies, and any Baptists that aren't southern. So, it's only natural that the Boy Scouts would be next, most likely followed by Betty Crocker (probably a lesbian), baseball (always going to Disneyworld when they win the World Series)…"
"Some might assume that because the Boy Scouts have addressed the issue, it must mean that Scout packs are filled with 10-year-old boys insisting on wearing their Scout caps at a rakish tilt and over-accessorizing their uniforms," She added.
"Sexuality doesn't come up and isn't relative to typical Scouting activities but now, thanks to Southern Baptists, the parents of little innocent Scouts everywhere are having to have The Talk. The Boy Scouts of America has been forced to confront this issue and cannot hide behind the freedom granted to religious organizations like the Southern Baptist Convention to condemn certain behaviors they deem unacceptable and exclude people based on their interpretation of the Bible."
Thomas continued, "[Southern Baptists] are too sanctimonious to participate in Easter egg hunts and trick-or-treating. Santa and the Easter bunny are simply the devil in disguise, and cable television and the Internet are his playground. The Boy Scouts are his evil minions."
On June 28, the Messenger noted that there are "conflicting reports on whether Thomas had resigned after his wife's newspaper column upset some church leaders." The publication reported that the church had issued a news release stating that its leadership had accepted his resignation. But a statement quickly followed from Thomas announcing that he "has no intention to step down."
When asked by the Messenger whether he had read his wife's column, Thomas replied, "I did read it. I agreed with what she said and I don't censor what my wife does."
The SBC's resolution does not require churches and families to sever their ties with the BSA, though it does ask that they "prayerfully assess their continued relationship" with the organization. If they continue their partnership with the BSA, the resolution asks churches and families to "work toward a reversal of this new membership policy."
The SBC resolution states that the BSA's policy change "needlessly politicizes human sexuality, and heightens sexual tension" within the Scouts, putting the organization "at odds with a consistent biblical worldview on matters of human sexuality."
The BSA's policy states that: "No youth may be denied membership in the BSA on the basis of sexual orientation or preference alone." This policy change conflicts with the religious and moral beliefs of the Southern Baptist churches that sponsor Boy Scout troops, as well as the Baptist Faith and Message, which declares that Christians should oppose all forms of sexual immorality, "including adultery, homosexuality and pornography."