Kentucky school under fire for allowing student-led prayer at graduation ceremonies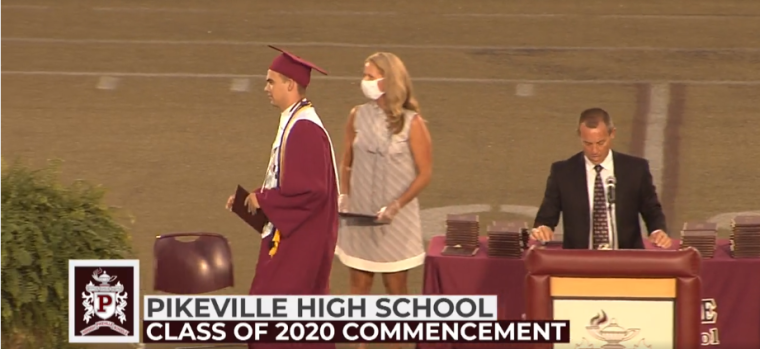 CORRECTION APPENDED

A school superintendent in Kentucky has clarified that his school district has not agreed to stop students from praying at graduation ceremonies following a complaint from the Freedom From Religion Foundation, a prominent atheist group advocating for a strict separation of church and state.
In July, FFRF sent Pikeville Independent Schools Superintendent David Trimble a letter on behalf of a "concerned citizen" who reported that the 2020 Pikeville High School graduation ceremony included three student-led prayers.
According to a news release Thursday, Pikeville Independent School District's legal counsel recently told FFRF that he had the opportunity to review the letter and "wanted to let you know that I have advised the principal to refrain from religious prayer at future graduations." 
FFRF's July letter cited the Supreme Court decisions in Lee v. Weisman and Santa Fe Indep. Sch. District v. Doe when making the case that prayers at school-sponsored events violate the First Amendment to the U.S. Constitution.
"It is well-settled that schools may not include prayer in graduation ceremonies," the letter read.
The beginning of the ceremony featured an invocation, where a graduating senior at Pikeville High School thanked God for "the experiences we have had through this distinguished school" and "the teachers, coaches and staff that have put in countless hours to provide us with resources necessary to become successful." He also expressed hope that God would "continue to walk with us along our future endeavors and watch over as we continue this journey called life."
FFRF specifically took issue with the student's use of the phrases "Heavenly Father" and "In your son's name, we pray." The letter contended that the "exclusively Christian" prayers alienated the "38 percent of younger Americans who are not religious."
About halfway through the ceremony, the salutatorian gave an address, thanking his "Lord and savior, Jesus Christ" as he reflected on his high school experience. He urged his fellow graduates to "make the Word of God a priority in your life as we leave high school and head off into the workforce, military, or higher education."
"As I have grown in my relationship with Jesus Christ, I have found that I am unable to walk through this life alone and find true success, happiness or peace," he added. "The next few years will likely be one of the most crucial parts of our life as we head into the front lines of the war on maintaining Christian faith."
"Proverbs 3:5-6 says 'Trust in the Lord with all your heart and do not lean on your own understanding. In all your ways, acknowledge him, and he will make straight your paths.'"
The salutatorian, the son of Pikeville High School's principal, also gave the benediction at the end of the ceremony. He thanked God for "allowing us to all come together, wherever we may be, to celebrate this important milestone" and "giving me the friends that I hold close to my heart," in addition to asking Him "to continue to watch over us as we start this new chapter in our lives."
In its complaint letter, FFRF asked the district to "refrain from allowing religious rituals —including prayers, benedictions, and invocations — as part of future graduation ceremonies or any other school-sponsored events."
In addition, the district was asked to "respond in writing detailing the steps you take to address this issue."
The Christian Post reached out to the Pikeville Independent School District for comment. Superintendent David Trimble told CP in a statement that graduation ceremonies for Pikeville Independent Schools have been student-led "for just over 100 years."
He assured: "that will not change." 
"At no time in any event do we want anyone to be uncomfortable, but it is also extremely important to us that we protect the rights and freedoms allotted to the participants in this event, which is the culminating event for their time as students of Pikeville Independent," Trimble, who took over as superintendent in July, said in the statement. 
In a phone interview with CP Tuesday, Trimble said that the attorney's recommendation was just that, a recommendation. 
"What we have said the whole time is we are going to protect the rights and freedoms of our kids. ... We have never agreed to anything [that would strip their rights]," Trimble said. "All we have had is a response to an attorney to [FFRF] and we are going to continue to make decisions based on what's right for our kids and based on what's legal."

"Our attorney is not a policymaker for us, he just makes recommendations," he added. "We never at any point said we are taking anything out of anything. I have said that I will review with my legal team anything that we do to ensure that we are following legal guidelines. I very much realize that our kids have freedom of speech and freedom of religion and student-led prayer. In this case, a good portion of what they challenged is actually from a salutatorian speech, which is very much within his freedoms and his rights to do."  
On Monday, the nonprofit legal group First Liberty Institute sent a letter to Trimble encouraging Pikeville Independent Schools to "continue its longstanding tradition of honoring its graduating students' First Amendment rights."
"Complaint letters like the one you received can omit important parts of the law, and can prompt unlawful government reactions that violate students' and other citizens' free speech and free religious exercise rights," the letter sent by First Liberty attorney Roger Byron reads.
Byron cited the 1969 Supreme Court decision in Tinker v. Des Moines to state that  students do not "shed their constitutional rights to freedom of speech or expression at the schoolhouse gate."

Correction: Tuesday, Oct. 13, 2020
A previous version of this article stated incorrectly that Pikeville Independent School District in Kentucky had agreed to stop presenting prayers at its graduation ceremonies following a complaint from the Freedom From Religion Foundation. Superintendent David Trimble clarified that the school district will respect the free speech and religious freedom rights of students to engage in student-led prayer.