Kyle Rittenhouse found not guilty on all counts in Kenosha fatal shootings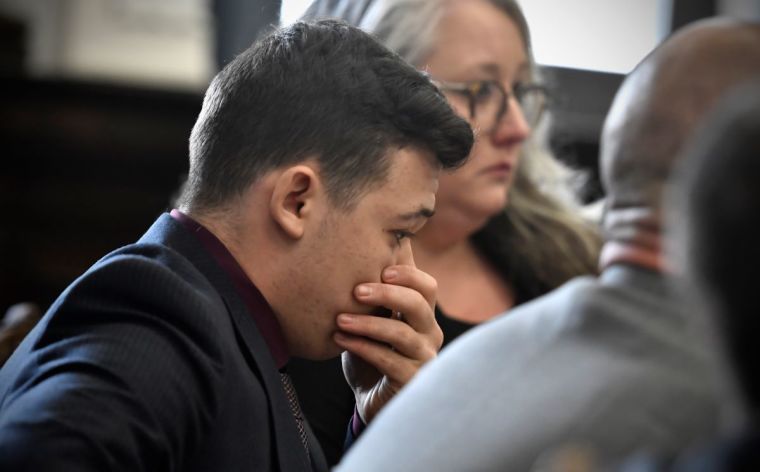 A jury has found Kyle Rittenhouse not guilty of homicide and attempted homicide charges for the fatal shooting of two individuals, plus wounding another, in self-defense during violent riots in Kenosha, Wisconsin, last year.
In a verdict reached Friday, a jury of seven women and five men found the 18-year-old not guilty on all charges put against him regarding his actions in August 2020.
Rittenhouse became visibly emotional as the not guilty verdict was read, with the judge thanking the jurors for their service and telling them that they were not obligated to speak to the press.
On Aug. 25, 2020 then-17-year-old Rittenhouse fatally shot Joseph Rosenbaum and Anthony Huber and wounded Gaige Grosskreutz in Kenosha.
The rioting, which had destroyed numerous businesses in the city, followed the non-fatal shooting of African American Jacob Blake by police earlier in the month.
Rittenhouse was charged with first-degree reckless homicide for Rosenbaum's death, first-degree intentional homicide for Huber's death and attempted first-degree homicide in shooting Grosskreutz.
Judge Bruce Schroeder of the Kenosha County Circuit Court, who oversaw the case, dismissed two other charges against Rittenhouse, specifically possession of a dangerous weapon by a minor and failure to comply with an emergency order from the government.
The prosecution portrayed Rittenhouse as a dangerous vigilante, while the defense argued that the teenager had acted in self-defense and was trying to protect a local business from rioters.
During the trial, Grosskreutz acknowledged during cross examination that he pointed a gun at Rittenhouse before he was fired upon, which many viewed as strengthening the defense's argument. 
Rittenhouse also gave emotional testimony in which he claimed he was surrounded and physically attacked by a group of people that included his victims.  
Amid final arguments, the defense filed a motion for a mistrial with prejudice, claiming that the prosecution failed to provide important video evidence taken from a drone.
The attorneys for Rittenhouse also alleged that the prosecutors interfered with Rittenhouse's right to remain silent and that Assistant District Attorney Thomas Binger tried to introduce information already ruled inadmissible at a pretrial hearing, reported The Washington Examiner.
On the third day of deliberations, the judge banned MSNBC staff from the case after a report that someone tied to the cable news network followed the jury bus.
"I don't know what the ultimate truth of it is, but it would go without much thinking that someone who is following a jury bus, that is a very serious matter and will be referred to the proper authorities for further action," stated Schroder.
The trial also had a political dimension. Some Democrat members of Congress took to social media to label Rittenhouse a "domestic terrorist" and a "white supremacist" last year while then-President Donald Trump said in a White House press briefing last year that he believed Rittenhouse was "trying to get away" from the mob and "probably would have been killed" if he had not defended himself.
Before the decision was reached, conservative evangelical writer David French penned a column in which he argued that while there is "abundant evidence supporting" Rittenhouse's self-defense claim, he should not be considered "a model for civic resistance."
"If the jury acquits Rittenhouse, it will not be a miscarriage of justice. The law gives even foolish men the right to defend their lives. But an acquittal does not make a foolish man a hero," wrote French.
"A political movement that turns a deadly and ineffective vigilante into a role model is a movement that is courting more violence and encouraging more young men to recklessly brandish weapons in dangerous places, and that will spill more blood in America's streets."