L.A. Lakers Rumors: Kevin Durant Leaving Oklahoma City Thunder for the Lakers?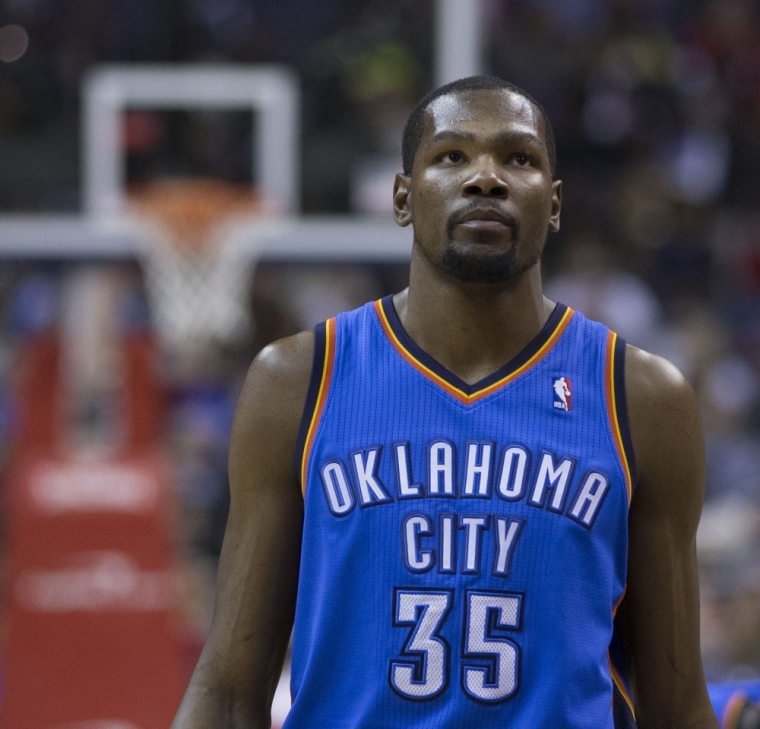 Oklahoma City Thunder's Kevin Durant could be headed toward the L.A. Lakers when he becomes a free agent in 2016.
Kevin Durant, Oklahoma City Thunder's small forward is due to hit free agency soon, and reports have been leaning towards his signing up with the L.A. Lakers next season.
According to reports, which were first heard from ESPN, the 6'9" Durant, who grabbed the NBA MVP trophy in 2014, has the Lakers in his sights if does end up leaving the Thunder.
Currently, with Kobe Bryant nearing retirement and Byron Scott struggling through coaching the first season, the Lakers have brought in some new talent in point guard D'Angelo Russell, shooting guard Jordan Clarkson, and power forward Julius Randle.
With Durant approaching free agency, he has the option to join any of the NBA's teams next summer, and there seems to be a strong possibility he may decide to put his lot in with the Lakers and take up from where Bryant left off.
On the other hand, the Washington Wizards is also another possibility, particularly since they happen to be Durant's hometown team.
On the other side of the court, the Lakers are said to be eager to bring Durant in, seeing as the six-time All-Star small forward will become a hot commodity once he hits the free-agent market and will be able to shift the balance of power in any team he decides to sign up for.
While Durant has said in the past that any news that doesn't come directly from his agent, Charlie Bell, his manager Rich Kleiman, or straight from his own mouth is hearsay, the rumors continue to swirl that he will soon be headed towards the Lakers when his contract with the Thunder officially ends.
The rumors have been strengthened by Durant himself who has indicated he doesn't intend to waste his time and energy as a free agent and may be putting a lot of thought into shopping for a new team before next summer.