Lance Wallnau Prays Against 'Witch Hunt' Attempts to Impeach Donald Trump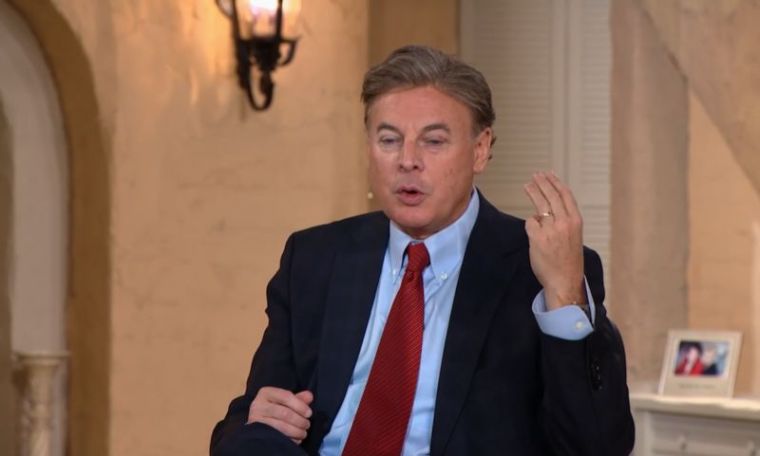 Christian thought leader Lance Wallnau who predicted Donald Trump would become president prior to his election in 2016 has invoked the name of Jesus against political enemies seeking to remove him from office in an ongoing "witch hunt."
"We thank you Lord that you are the God that puts one down and puts up another. That you are the God that promotion doesn't come from the south or the east or the west but it comes from the Lord," Wallnau said during an animated prayer session this week.
"This witch hunt has moved from ... the Democrats gave up on trying to connect Trump with Russia. Get this, that story is so dead. Comey killed it. What are they after? You gotta catch what's going on. Oh they've picked up another subject, forget Russia, what are they going after now? Obstruction of justice. Get the tapes, Watergate, they are just desperate to find a Richard Nixon moment. Get the tapes, obstruction of justice, impeach," he continued.
"Tapes, obstruction of justice, impeach; we cut off every word, in Jesus name!" Wallnau screamed. "Tapes, dissolve away. Obstruction of justice, melt away. Impeachment, bye, in Jesus name."
The recording of the prayer session appears to have been made on Monday, prior to Attorney General Jeff Sessions' testimony before the Senate Intelligence Committee about Russia, former FBI director James Comey and conversations with President Trump.
Wallnau prayed that Sessions would be like a "bullet-proof monk" and a "divine angel" would edit whatever came out of his mouth.
"We're thanking the Lord for Donald Trump, we're praying that a grace will come upon him now. Jeff Sessions tomorrow, I pray he'll be the bullet-proof monk, in Jesus name. That every word will be articulated wisely and shrewdly. That there'll be a divine angel editing what comes out of his mouth," Wallnau prayed.
He further prayed that the questioning from the Senate Intelligence Committee would "fall apart" and took a shot at Sen. John McCain, R-Ariz., for his previously criticized line of questioning during Comey's testimony before the Committee last week. He even went on to suggest that McCain be removed from office if he doesn't come into alignment with Trump's agenda.
"Lord I don't know what's happening to John McCain. He's getting all confused when he's trying to talk and then when he's talking Lord he's constantly insulting the administration of his own party," he said in exasperation.
"So Lord, I pray that you will begin to move in such a way that you will bring alignment within the people in Washington with your agenda. And those that aren't aligned, I thank you Lord that you will bring up those in their place who will be aligned.
Wallnau's best-selling book, God's Chaos Candidate, is credited as being the catalyst that mobilized thousands of Christians to vote for Trump and contributed to his unprecedented election victory, according to his website.
He recalled in an interview with CBN how God revealed to him that Trump was like the Persian King Cyrus cited in the Bible. Cyrus decreed that the Jews living in captivity in ancient Babylon could return to Israel and rebuild their temple.
"America has been unraveling for two decades and Christians are probably the people that are the most sensitive to it," Wallnau told CBN. "What Trump represents is something like a block in the door that was closing."
He said he firmly believes that Trump's election is divine intervention.
"I really believe that the mercy of God intervened in this last election cycle and gave us an individual who has the willpower and the tenacity to be able to do a reset," he said.