Larry Nassar Convinced Sickened Parents He Had to Sexually Abuse Their Children to Rid Them of Pain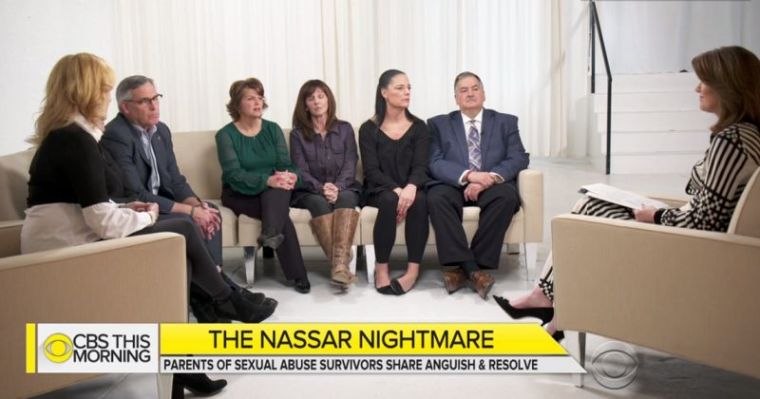 A number of parents who once sent their athlete children to former U.S. Olympic team doctor Larry Nassar have described how the physician convinced them he needed to carry out bodily invasive procedures in order to stop the pain their children were experiencing.
Kyle Keiser, mother of former gymnast Sterling Riethman, explained part of her experience with Nassar, who was recently sentenced to life in prison for abusing 250 women and children, in a discussion with "CBS This Morning" on Thursday.
"He (Nassar) had done good work with her from the age 10 to 13 as a gymnast. Became a diver, broke her back as a diver. Had gone several places for help. And she was home one time and I'm, like, 'Let's go to Larry.' That was my moment. You know, that he'd fixed her before," Keiser said in tears.
"So when she went and had a bro-- we don't even know what it is. None of us know. A broken back, a broken tailbone. ... So when he described what he was gonna have to do and, like, it'll be pretty invasive, I'm going, 'Whatever we have to do. I want my child out of pain. If this is gonna work, let's go.'"
Others, such as Doug Powell, whose daughter Kassie was a pole vaulter at Michigan State University, said that of all the things parents have to teach their children to be cautious about, going to the doctor should not be one of them.
"You know, we talked to our kids as they grew up and coming from a law enforcement background and perspective, nothing ever good happens after midnight," the father began.
"You know, 'Go home. Don't do this. Don't do this. Be conscious of what you're doing.' How do you guard from a doctor? How do you put that guard in your daughter's mind? It's saddening and sickening."
Powell's mother, Julie, went into further details:
"I was in the room when he was doing the treatment. And he positioned them such that — I mean, I even stood up. I'm a nurse. I stood up to see what he was doing. And I'm, I said, 'What are you massaging right now?' And he said, 'We just have to — to loosen those tendons, ligaments, muscles in that area and that will help the scoliosis that you have in your back.'"
The mother continued: "Kassie told me immediately when we got in the car. She's like, 'I am never going back there again.' I said, 'Why?' And she said, 'He had his hand inside me.' And he talked her back into letting him do that. He made it seem like without this area adjusted, she would never be able to be the pole vaulter she wanted to be."
While the entire board of USA Gymnastics have handed in their resignations in the wake of the revelations around Nassar, the parents stated that several institutions, including Michigan State University, where the doctor worked, and the U.S. Olympic Committee, are yet to fully own up to their part in failing to investigate and stop the abuse.
Former gymnast Rachael Denhollander, the first woman to publicly accuse Nassar of sexual assault, preached the Gospel at his sentencing in January.
Denhollander pointed out that in the first hearings over the sexual abuse, Nassar carried with him a Bible to court.
"If you have read the Bible you carry, you know the definition of sacrificial love portrayed is of God Himself loving so sacrificially that He gave up everything to pay a penalty for the sin He did not commit. By His grace, I, too, choose to love this way," Denhollander directly told the doctor.
"You spoke of praying for forgiveness. But Larry, if you have read the Bible you carry, you know forgiveness does not come from doing good things, as if good deeds can erase what you have done," she added. "It comes from repentance which requires facing and acknowledging the truth about what you have done in all of its utter depravity and horror without mitigation, without excuse, without acting as if good deeds can erase what you have seen in this courtroom today."