Latina Actress Attacked for Supporting Tea Party Candidate; Leaves Show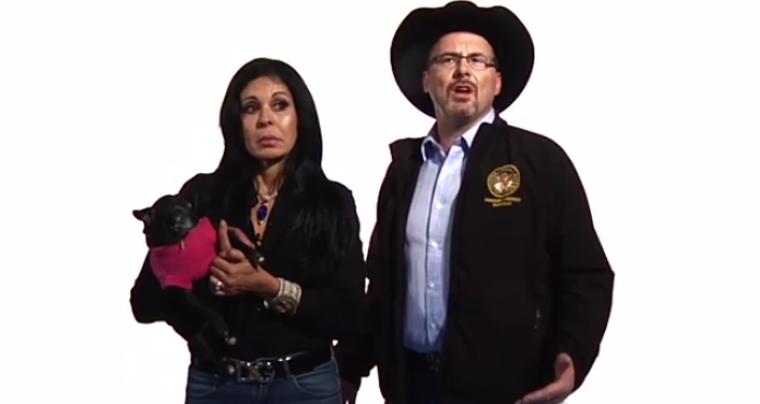 An actress and former Miss Venezuela has left a theatrical production after receiving a firestorm of criticism for supporting a Tea Party candidate for California Governor.
"I've been called all these horrible names like you can't imagine" after supporting Gubernatorial Candidate Tim Donnelly, Maria Conchita Alonso said on Fox News, Monday morning. On Friday, Producer Eliana Lopez announced that Alonso will not star in her rendition of "The Vagina Monologues" due to her support for Donnelly.
"We really can't have her in the show, unfortunately," Lopez told KPIX 5, announcing Alonso's resignation from the cast of the play as performed with local company Brava! For Women in the Arts. "Doing what she is doing is against what we believe," Lopez explained, mentioning the Mission district of San Francisco.
Alonso endorsed Donnelly and released a video ad with him last week. The video has received harsh criticism from the Latino community, especially due to Donnelly's strong anti-immigration stance.
"We're stunned that Maria Conchita Alonso allowed herself to be drawn into Tim Donnelly's web of deceit about his immigration extremism," Bob Quasius, president of Café Con Leche Republicans, declared in a press release. Quasius attacked Donnelly's leading role in the Minutemen, an armed volunteer border patrol group. Donnelly has also fought measures allowing California's undocumented immigrants to attend public colleges at the same tuition rates as other residents.
Quasius disagreed with Alonso's assertion that Donnelly led border patrols "due to concerns about Arab terrorists," arguing that the Minutemen were not organized until 2005. Quasius also mentioned cases where Donnelly "sees Latinos and immediately assumes they are here illegally."
Quasius also mentioned Donnelly's support for a repeal of the 14th amendment, which he explained as "stripping citizenship from babies." The Latino Republican declared that these positions fundamentally alienate Donnelly from his people. "To most Latinos repealing birthright citizenship is toxic."
In a separate statement, Café Con Leche declared the video "so bad it's almost laughable." While Donnelly makes political arguments, Alonso spends the video cracking jokes and summarizing complicated issues by saying "we're screwed." Quasius said "the ad seems designed to appeal to Hispanic voters, but instead insults the intelligence of many Hispanic voters."
Lopez did not explain which of Donnelly's positions made Alonso's support for him utterly unacceptable to Brava. Alonso herself said she resigned in order to protect the company and the show.
The actress recalled being insulted on the radio, and she reported that many callers threatened a boycott of the theater company. "I'm in a country that, when I first came here, people respected each other — Democrats and Republicans," Alonso told Fox News. "Now … you are attacked for speaking out."
 "I said the other actors don't have to go through this," Alonso said. "They don't deserve this, it's on me only — they can do whatever they want with me," she said. Alonso explained that she still supports Donnelly because "I'd like to bring work back into California, not only for my industry, Hollywood," but for others.
In the video, the actress holds a Chihuahua named "Tequila." Alonso reported that even her dog has been insulted, and angry callers "say that she represents Mexicans because she's a Chihuahua."