Laura Bush Demands She Be Removed From Pro-Gay Marriage Ad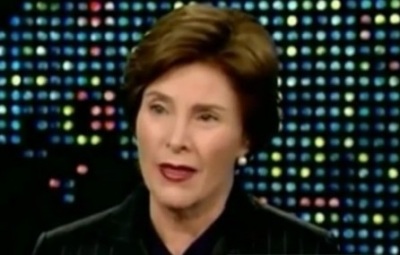 U.S. former first lady Laura Bush has requested that her spot be removed from a pro-gay marriage advertisement that launched this week. The ad is part of a $1 million print and broadcast media campaign by the Respect for Marriage Coalition.
"Mrs. Bush did not approve of her inclusion in this advertisement nor is she associated in any way with the group that made the ad," Anne MacDonald, a spokeswoman for the former first lady, told The Dallas Morning News Thursday morning.
"When she became aware of the advertisement Tuesday night, we requested that the group remove her from it," MacDonald added.
The commercial features a 2010 clip from the former first lady speaking on her support for gay marriage. She tells CNN's Larry King: "When couples are committed to each other and love each other that they ought to have the same sort of rights that everyone has."
Bush's support for gay marriage came as a surprise to much of the U.S. public, as her husband, former U.S. president George W. Bush, has openly voiced his opposition to gay marriage. He endorsed a 2004 constitutional amendment which would restrict marriage to two people of the opposite sex.
Laura Bush even wrote in her book, Spoken From the Heart, that during the 2004 presidential election, she asked her husband not to make gay marriage a central issue in his campaign platform, as they held opposing views on the issue.
The commercial also features previous clips from U.S. President Barack Obama, former vice president Dick Cheney, and former secretary of state Colin Powell, all speaking on their support of gay marriage.
President Obama's clip is taken from his inaugural address earlier this year in January, in which he said:
"Our journey is not complete until our gay brothers and sisters are treated like anyone else under the law."
According to the  Respect for Marriage Coalition, this new commercial will reportedly hit various Sunday talk shows on Feb. 24. It is expected to also run as full-page print advertisements in major national newspapers, including The New York Times, and online advertisements will appear in the upcoming days.
Currently, there are two gay marriage cases facing the Supreme Court: California's Proposition 8 gay marriage ban, and the federal Defense of Marriage Act.
It was announced today that the Obama administration is considering intervening in the Supreme Court's Proposition 8 case in an attempt to urge the court to overturn the state's ban on gay marriage.