Lauren Daigle gets candid about struggles with anxiety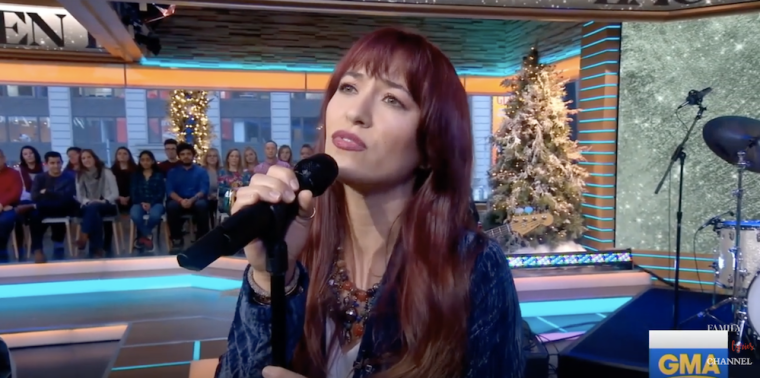 Grammy Award-winning singer Lauren Daigle recently revealed to fans that she often struggles with anxiety which sometimes arises unexpectedly. But she's found a way to overcome it. 
During a Q&A with fans in Knoxville, Tennessee, on March 14, Daigle revealed that she struggles with anxiety "a lot," and said it's not something that she's been able to get used to. 
"I wouldn't necessarily say I'm an anxious person until anxiety comes," Daigle told a mother in the audience whose daughter asked for advice on how to deal with anxiety.  
The singer admitted that when she first started experiencing the unease, she declared, "this isn't me."
"Someone told me a long time ago, 'perfect love cast out all fear.' Well, I know someone who loves me beyond my wildest imaginations, beyond my wildest dreams, and He has a love that's so rich for me. He's actually looking out for yesterday, today and tomorrow. He can see the things I can't see," Daigle explained in the video posted to Instagram. 
She said that now, as an adult, "more anxiety" has been added to her life and as a result, she turns to God.
"I have to say, 'OK, God, I wanna know what you see for tomorrow? Can you come and give me that peace so I can rest tonight?" she illustrated.
Daigle added, "'I might have fear here but If I really believe in the perfect love you have for me then I'm just going to push fear aside and say, that's a lie, you're trying to get in my head, my heart, it's not gonna work.'"
The "You Say" songstress said she pleads with God to reveal Himself to her in those moments of panic and stress. Daigle went on to say that just the night before, she was overcome by emotion on her tour bus. She realized it was worry because she was coming off the road.
"I'm about to have to go into a different pace of life and it's a different change, every time we come off the road I get anxious about that. I don't like it, I'm like let's just stay in one season of life and just run and enjoy it," she confessed.
"On the other side, His love was always available and He's always looking out for me in places that I couldn't see," she continued. "That's what I focus on 'OK, God, your love is better than me trying to control tomorrow and trying to figure it out."
Daigle has been making her mainstream TV rounds with appearances on "The Tonight Show Starring Jimmy Fallon," "Dancing With The Stars," and recently addressed critics who slammed her for appearing on "The Ellen DeGeneres Show" because Ellen DeGeneres is a lesbian, arguing they "completely missed the heart of God."
"I think the second we start drawing lines around which people are able to be approached and which aren't, we've already completely missed the heart of God," Daigle told WAY-FM Radio in response to the backlash.
"I don't have all the answers in life and I'm definitely not gonna act like I do, but the one thing that I know for sure is I can't choose who I'm supposed to be kind to and who I'm supposed to show love to and who I'm not, because that's the mission right?" she continued. "Be who Christ was to everyone."
Daigle said in a recent interview with The Christian Post that she's staying true to her call to go outside the walls of the church and share the Gospel.
"I think the passage that says, 'Go out into the world and draw people unto Him,' the Great Commission, that's what I think about in regard to the mainstream aspect," Daigle told CP in an interview last year. "I wasn't looking at [making my music] as in mainstream versus Christian. I was like, 'OK, what is the purest version of me? Or what is the purest thing that God has written into my spirit and how do I express that? How do I communicate that?"