Lecrae, Trip Lee Fans Defend 'Manolo' Video Amid 'Illuminati' Controversy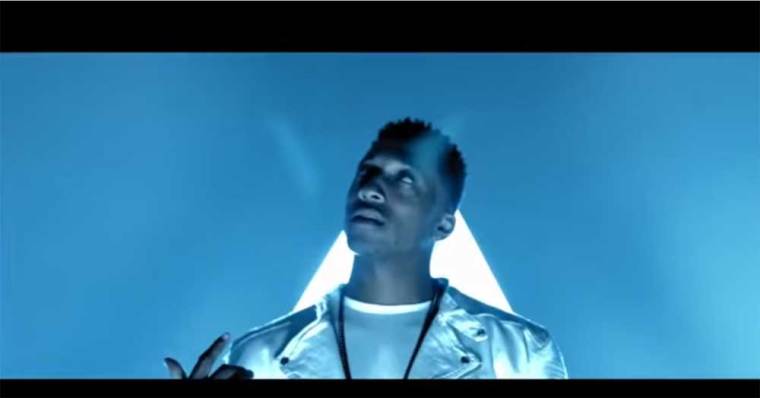 Trip Lee recently released a new video for his latest single "Manolo" off of his album Rise. The single features his label mate, Grammy Award winner and founder of Reach Records – Lecrae. Although many are praising the video's creative liberties, many others are fueling the uproar over what they call "illuminati imagery."
Both rappers appear in the video, which seems to take place in a dark facility used for mind control. Trip has publicly stated several times that the word Manolo means "God is with us." In the video after he destroys a cardboard cutout of himself, he ends up outside, free from the grip of that dark place.
"We know that He got us,
He is with us can't block us; Ibaka
His word is my weapon,
It's going Brrrr-aaat!," he rapped at the end of the 4 minute song.
Within minutes of the video going live, people began to accuse the Texas natives of deliberately using occult symbols. Conspiracy theorists and others have closely linked the triangle symbol and checker board pattern used in "Manolo" to masonic and illuminati symbols. See several sources HERE.
Youtube user Andrew Solis agreed with some of the accusers because of the choice of imagery. He said, "Well they kinda bring it upon themselves. Illuminated triangle, the run down house only showing the triangle, the black and white checkerboard symbolizing balance is also Illuminati affiliated. Lecrae has had the triangle in a few vids. I ignore the Illuminati accusations personally bc the MUSIC has a great message but that doesn't mean that they can't be part of something else."
Immediately fans stepped in and defended the 116 members.
"Nah it's actually a fact. God made the earth, so therefore shapes had to be built. In other words, God made shapes, which means that a shape can't be evil. That's like saying a color is satanic," b nkansah commented under the video.
Youtuber Elo MusicTv even offered an explanation for the the entire video treatment, discrediting many of the conspiratory criticisms.
"Basically the video is about Trip Lee going into the matrix (Manolo = Emmanuel = God with us) and realising a greater knowledge about God and existence. That's why he is destroying the plastic picture of himself. He is no longer a puppet to society. He has entered a greater understanding of who he is through the creator," he wrote.
Reach Records is commonly accused of being linked to secret societies. In rapper KB's video "Sideways" featuring Lecrae, many accused them of being a part of the satanic cult as well because of a hand signal used by Lecrae. Despite their overt Christian lyrics people could not see past the triangle hand signal thrown up by the Christian trailblazer. The hand signal, made popular by hip-hop mogul Jay Z, sent people into a frenzy.
Lecrae addressed the controversy in an interview with Rapzilla and he joked that perhaps geometry should remove the triangle altogether from its curriculum. Watch his response below.