Lesbian Pastors Violate Methodist Book of Discipline and Wed Each Other; Say They Won't Resign and Will Marry Gays in Church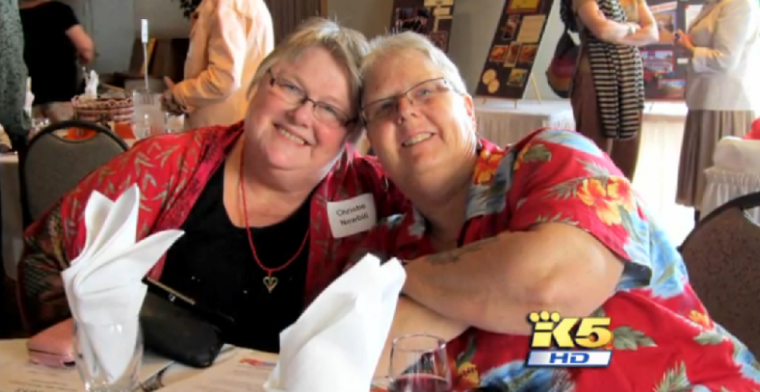 Two lesbian Methodist pastors in Seattle, Wash., could soon be defrocked after they decided to celebrate their undying love for each other by getting married in defiance of the Methodist Book of Discipline two weeks ago.
The news comes on the heels of an announcement Thursday by leaders of the United Methodist Church that they had defrocked the Rev. Frank Schaefer of Pennsylvania for officiating the wedding of his son to another man six years ago.
According to a King5.com report, the two female pastors, the Rev. Joanne Brown who pastors Tibbetts United Methodist Church and Christie Newbill who is a pastor at Woodland Park United Methodist Church got married on Dec. 7 before a full house at Brown's church.
The report notes that there was only standing room available during the ceremony that was filled with ministers, children and churchgoers who weren't allowed to take any pictures.
Rev. Frank Schaefer's trial by the Methodist Church had highlighted a rift among the clergy, 44 of whom had written letters of support for Schaefer, according to the Lebanon Daily News. The lesbian pastors maintain, however, that their actions have nothing to do with the current state of the Methodist Church's politics.
"I wasn't doing this to make a point. I wasn't doing this to thumb my nose at the United Methodist Church. I was doing this because I loved this woman," said Rev. Brown of her new wife.
Both women described their churches as "reconciling congregations," a term which indicates that everyone, including homosexuals, can be affirmed in their church. They have also pledged to perform homosexual weddings which are legal under Washington state law.
The pastors, who say their relationship started as a friendship, described their deep love for each other; and Brown says she couldn't live without Newbill.
"I need to breathe. It's what I need to live. I would never for a nanosecond change what I have done," said Brown.
"I could feel kind of a leap when she came into the room, a delight to see her," recalled Newbill.
United Methodist Seattle District Superintendent Patricia Simpson who married the women said she prayed about the decision before she made it.
"We don't do these things casually," she said. "For a couple who wants to be married in their church. I believe it was a faithful decision," she added. "I also hope the day will come soon when the United Methodist Church will let go of this prohibition."
Unless a complaint is filed with the Bishop of the Methodist Church no disciplinary action will take place. The Bishop is the authority in the Methodist church who would start the process that could lead to a dismissal of the complaint, a mediated resolution or a church trial like the one recently faced by Rev. Schaefer.
As for the new married pastors, they are now focused on getting ready for Christmas.
"Living my life true to myself and to God, and authentically with everyone else, I think that's the most important thing," said Newbill.
As for Brown, she is at peace with her decision because she believes, "That the Gospel is a gospel of radical love and liberation. That was the main teaching of Jesus."