'Less Santa, more Jesus;' Churches observing 'Bless Friday' instead of 'Black Friday'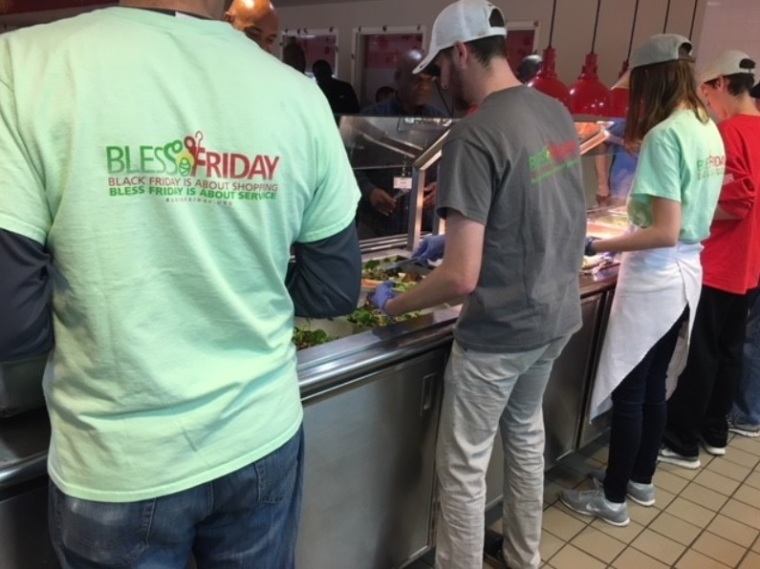 On a day when many Americans are crowding the stores for "Black Friday" bargains, a group of churches will instead do acts of charity as part of an annual observance called "Bless Friday."
"We're here to help connect individuals, groups and churches to the service opportunities that can transform our communities and our hearts," noted its website.
"If you don't find an activity on our website in which you can participate, please allow the Spirit to lead you and your family and friends to a need in your community."
First begun in 2010, this year for the first time a Christian-owned business will be joining the churches taking part, according to Bless Friday organizer and founder Chuck Fox.
In an interview with The Christian Post, Fox explained that RE/MAX Legacy Living of Richmond, Texas was going to be involved.
"For the first time we are partnering with a Christian owned, small business, RE/MAX Legacy Living. Jemila and Patrick Winsey learned about Bless Friday on November 5, less than three weeks before Bless Friday, and they asked if they could participate," explained Fox.
According to Fox, Jemila Winsey has been helping with social media outreach, with her sending out promotional videos created by the Bless Friday organizers.
"The quickness, professional use of social media and partnership with a business are all new.  We are happy to have anyone involved who honors Christ and keeps the focus on Him at Christmas," noted Fox.
In total, ten churches are taking part in this year's Bless Friday observance, which is an increase of two congregations from the year before.
"We have ten churches participating this year – up from eight last year.  We added two churches in Cotulla, Texas.  Cotulla is a small town with about 3600 residents.  The local Catholic Church and Church of Christ are visiting a nursing home," Fox explained.
"We hope that by beginning their Christmas celebration with service participants will place their focus on Jesus.  We especially hope that Bless Friday connects Christmas and service in the minds of children, less Santa and more Jesus."
Bill Bray, organizer of the Bless Friday volunteer efforts for The Woodlands Community Presbyterian Church in Texas, told CP in a 2016 interview that he considered Bless Friday "a much better way of ushering in the Christmas season than Black Friday."
Roger Patterson, senior pastor of the Houston-area West University Baptist Church and Crosspoint Church, told CP in an earlier interview that his congregation participated because "of the beauty of the idea and the desire to keep generosity at the forefront of the Thanksgiving and Christmas season."
"We feel practical pathways of giving help us combat the ease by which we can fall into the trap of greed," Patterson told CP in 2016.