LGBT Activists Assault Christians Protesting Homoerotic Ads in the Netherlands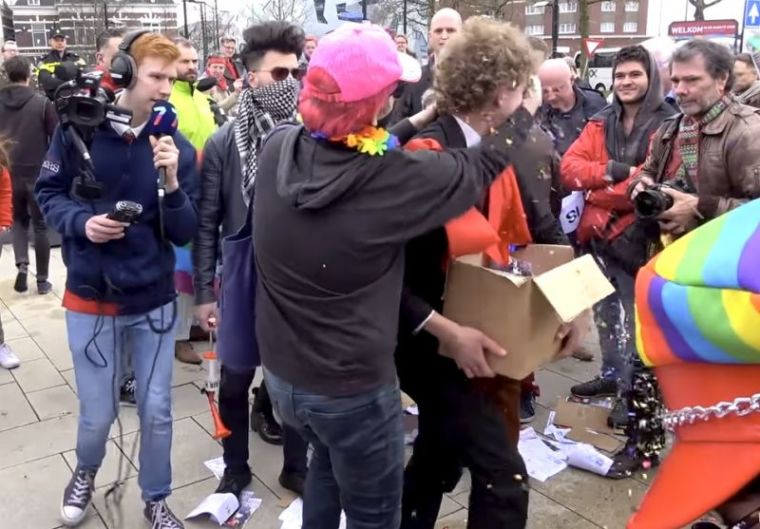 Conservative Catholic demonstrators were physically harassed, spat on and assaulted by LGBT activists earlier this month while protesting an Amsterdam-based clothing retailer's "overt and offensive" homosexual advertisements in the Netherlands.
Stichting Civitas Christiana, a Dutch pro-family Catholic group, held a public street demonstration in Nijmegen on March 11 to protest the Suitsupply's controversial ad campaign that features thousands of ads all over Holland that show sexually explicit and homoerotic poses.
A video shows that during the demonstration, dozens of LGBT activists (many of them wearing masks) marched down the street to where the demonstrators were protesting and began a barrage of chants, blowing of blow horns and other disruptive tactics.
The video shows some of the counter protesters on different occasions violating the personal space of the SCC members, with one person taking handfuls of glitter and smothering it in the eyes and hair of many of the protestors.
The same masked person is also seen in the video throwing objects at some of the Catholic protesters before she is taken away by police officers.
On one occasion, a counter protester was seen spitting on a camera man as he filmed the counter protestors' "intolerant" treatment of the Catholic group, which was espousing Catholic beliefs about modesty and sexuality.
"Yes, they punched me in the face," student volunteer Lucas Zoonen told TFP Student Action, a project of the American Society for the Defense of Tradition, Family and Property. "They tried to grab me and tried to grab my cape, tried to rip it off and tried to even tear it."
The video shows counter protestors ripping, stomping on, kicking and destroying the group's flyers. Another scene in the video shows a counter protester covering the face of an SCC demonstrator with a gay pride flag.
"It was not like a peaceful demonstration," volunteer August Weber told TFP Student Action. "Some are hypocrites because they are preaching that we should be tolerant against them. They were very aggressive. They were intolerant."
"Police had to intervene many times," he added. "I think this says quite a lot about the situation."
The video also shows one person shouting chants of "God is Gay!" and "Hail Satan!"
SCC founder and leader of the rally, Hugo Bos, told the Catholic outlet Church Militant that the counter protesters' actions show "the bizarre contrast between what they practiced and what they preach."
"Their idea of freedom of speech proves to be a farce because it only counts for the 'correct' opinions, and the opinions against gay marriage are not politically correct and have no place in the public sphere, according to them," Bos asserted.
To Bos' argument, the video shows one woman shouting down the protestors by chanting "Hate speech is not free speech!"
Church Militant also reports that one LGBT activist told the newspaper Reformatorisch Dagblad that the "homophobic men are not allowed to have a voice in our society" because "they are fascists."
"They prove themselves to be hypocrites," Bos said. "[B]y preaching tolerance and not acting accordingly."
According to TFP Student Action, CSS announced after the protest the launch of a new campaign called "Family in Danger." 
"This protest was just the beginning. We now are going to campaign intensively and persistently for the family," Bos reportedly said. "We will not stop until the family is completely protected from the sexual revolution."