Liberty U. hires ex-Ole Miss football coach who used school phone to call escort service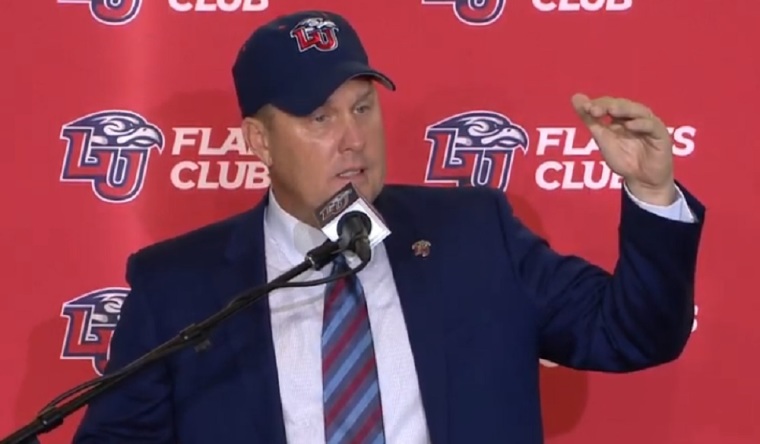 Liberty University has hired former Ole Miss football coach Hugh Freeze, who is accused of using a school phone to call an escort service, as the next Liberty Flames head coach.
The school announced Friday that the 49-year-old Freeze, who led the University of Mississippi football team to its highest ranking in 50 years and won the Sugar Bowl in 2016, will become the ninth head coach in Flames football history.
Freeze was introduced at a news conference Friday in Lynchburg, Virginia, where the school was founded by the late Pastor Jerry Falwell Sr. and grew to become one of the largest Christian colleges in the United States.  
"What an honor it is for me and my family to join the Liberty family," Freeze said in a statement. "We can't think of a better place to restart our career in what we love to do. I'm very thankful for President [Jerry] Falwell [Jr.] and the entire Liberty administration for putting their trust in me to lead this wonderful program."
The hiring comes as the Flames just completed their first season in the NCAA Football Bowl Subdivision and could be eligible to play in the school's first bowl game if the team wins at least six games next season.
"What really impressed us the most with him is he's a man of great faith, a great family man," Liberty University athletic director Ian McCaw said during the news conference Friday. 
Freeze enters his Liberty coaching career with a career 69-32 win-loss record. During his five seasons at the University of Mississippi, Freeze led the team to four bowl game appearances.
Freeze has been out of football for nearly two years. He resigned from Ole Miss in July 2017 while the NCAA was investigating recruiting violations against his program and his personal conduct.
The program had been accused of providing players with "impermissible" benefits to come play football. But Freeze's resignation came when investigators began looking at his phone records.
Among other things, an investigation determined that Freeze used a school-issued cell phone to call escort services on different recruiting trips.
Citing phone records, The Wall Street Journal reports that on one occasion, Freeze used his school-issued phone to call a number linked to a female escort service after he landed in Tampa, Florida, for a recruiting Trip on Jan. 19, 2016.
Ole Miss athletic director Ross Bjork said at the time that the university's investigation uncovered "calls of a similar nature" over the course of several years. Additionally, Freeze's calls matched with travel logs showing Freeze's use of the school plane to travel out of state for recruiting purposes.
During his introductory press conference, Freeze was asked about his faith.
"Faith for me is believing in the son of God, Jesus Christ, and then He is the only one I have ever met that can handle my junk," Freeze assured. "If you know somebody else that can do that, I would love to meet him. But I haven't met that person yet and He is the only one that can."
Freeze previously spoke at Liberty University during a convocation ceremony in January. During that speech, he expressed sorrow for his actions.  
"I had to say to people that I loved, 'I am sorry, please forgive me,'" Freeze said at the event. Which also included his wife and their pastor, according to news station WDBJ7. "And today is really the first day I can tell the faith family, 'I am sorry, please forgive me.'"
During the introductory press conference, Freeze admitted that he made "decisions that have hurt a lot of people."
"I don't want to experience that again," he said, adding that he "inconvenienced" his wife, Jill, "many times" throughout their marriage.
Freeze assured that he has spent the last two years reexamining his core values.
"[W]hen I adhere to them, followed great blessing," he said. "It's also given me time to, when I did not adhere to them, learn about what discipline looks like."
In addition to coming under investigation from Ole Miss and the NCAA, Freeze also drew the ire of the Freedom From Religion Foundation during his time in Mississippi.
As one of the nation's largest secular legal groups, FFRF complained that Freeze was using his Twitter account to regularly tweet about God. As a state employee, the group argued that Freeze couldn't use the social media accounts he regularly uses in his professional capacity to issue any sort of religious endorsement.
Freeze will take over for retiring head coach Turner Gill. 
Freeze is not the first controversial hiring decision that Liberty University has added to its athletics department in recent years. Students and alumni voiced disapproval in 2016 when the school hired McCaw as its athletic director after he resigned from Baylor University that May.
McCaw's resignation came after an independent report found that Baylor's athletic department failed to adequately handle and report allegations of sexual assault and domestic violence against Baylor football players.