Lifehouse, Switchfoot Release Song for Hurricane Harvey Relief: 'Houston Will Rebuild'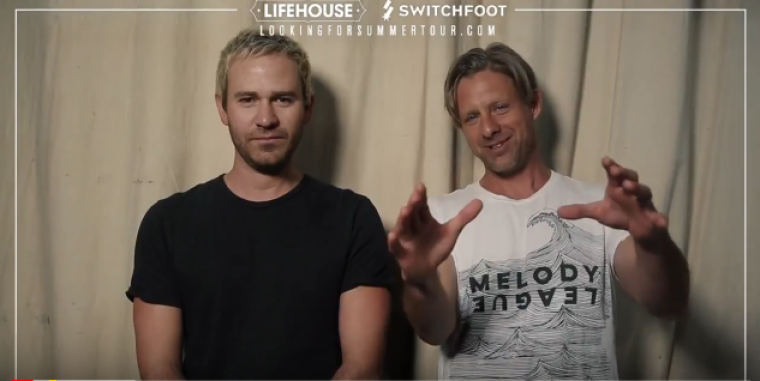 The lead singers of Lifehouse and Switchfoot took a break from their tour last week to record a song to raise money and help bring relief to Hurricane Harvey survivors in Texas and Louisiana.
The song, "Shine Like Gold," premiered on People.com and is now available to download as a pay-what-you-want donation. All proceeds from the single will be donated to aid Houston's recovery in partnership with Food for the Hungry.
The flooding that followed hurricane and tropical storm Harvey has killed at least 44 people, displaced over 1 million and dumped as much as 50 inches of rain.
Lifehouse and Switchfoot have been on the road together for the first time ever on their "Looking for Summer" tour. They recorded "Shine Like Gold" in Nashville and both bands will reportedly come together on stage to perform the song at their Sept. 5 House of Blues show in Houston, Texas.
"We can't imagine what everyone is going through right now in Houston, but they've all been in our thoughts and prayers," Lifehouse's Jason Wade said in a statement shared with The Christian Post. "We look forward to playing this [House of Blues] show, standing alongside this amazing city and doing everything in our power to help. Jon and I started writing 'Shine Like Gold' at the beginning of this tour, but it wasn't until we recorded it in Nashville that we really knew what it was about."
Like many songs that take time to create, Wade said "Shine Like Gold" was initially delayed and it was the bravery of the rescue workers in Texas that placed greater urgency on them to complete the song.
"Seeing all of these amazing individuals who've sacrifice for their neighbors, and stepped up in the face of extreme hardship has been so inspiring," he added. "This song is for them. All of the proceeds from this song are going to Houston for the unsung heroes that do the right thing when no one is watching. All the love."
Jon Foreman of Switchfoot revealed that he and Wade had been wanting to collaborate for some time.
"Jason and I had always talked about writing a song together. When it finally happened, 'Shine Like Gold' became a song about everyday heroes fighting their way through the darkness toward the light," Foreman explained. "On the day we recorded the song, Hurricane Harvey began wreaking havoc in Texas. Sometimes you don't know what a song is for until after it's written. In this case it became crystal clear."
The Switchfoot frontman said people close to him have suffered great losses in the wake of Hurricane Harvey.
"As we watched our friends and family in Texas struggle through the aftermath of the hurricane, we knew exactly what we had to do. We love Houston. Houston is resilient and will rebuild. We can't wait to be in Houston next Tuesday to celebrate hope in the midst of tragedy," he concluded.
To download "Shine Like Gold" click here.