LifeWay Denies Releasing List of Authors Said to No Longer Be Available Through Its Bookstores
'List of Authors Removed From LifeWay' Includes Joel Osteen, Mitch Albom, Dozens of Others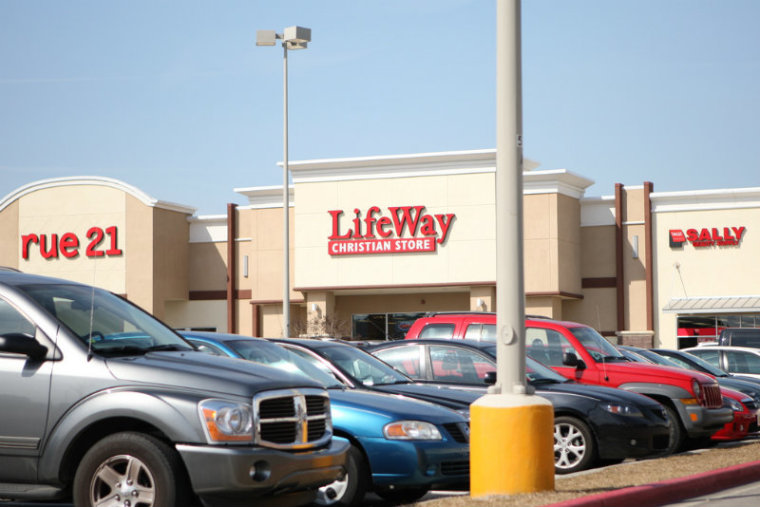 A document linked to LifeWay Christian Resources suggests that the popular bookstore chain has dropped more than 150 authors and resources from its inventory. However, a representative for the nonprofit says LifeWay did not release the list that was made available online this week.
"Although LifeWay Christian Resources does not carry titles by most of the authors included on a list recently posted on the Internet — and has never carried most of them — this list was not released by LifeWay," Marty King, director of communications for the company, told The Christian Post on Thursday.
The document, titled "List of authors removed from Lifeway" was made available for download Wednesday on camerondobbins.org. In a blog post first published Wednesday, April 8, site owner Cameron Dobbins, wrote, "LifeWay sent out a company email to all employees in regards to their decision and an acquaintance of mine who works for LifeWay sent me the list of banned resources/authors."
Dobbins went on to "applaud" LifeWay for its "decision" to pull the list of resources, but the California "aspiring pastor/teacher" also questioned why LifeWay would carry such resources "in the first place."
Dobbins updated his blog post on Thursday, altering his original wording: "Supposedly LifeWay sent out a company email to all employees in regards to their decision and an acquaintance of mine who works for LifeWay sent me the list of banned resources/authors." He added that he did not personally view the email, but was only sent the .pdf of the list. Citing two employees that he claims work at LifeWay's corporate headquarters in Nashville, Tennessee, Dobbins presented a distinction between books stocked by LifeWay, and books available by special order through the chain.
The original blog post by Dobbins titled, "LifeWay Removes Unbiblical Resources From Their Stores," had been shared at least 1,000 times on Facebook by Thursday.
The "List of authors removed from Lifeway" names 153 authors and Bible versions, including author Mitch Albom (The Five People You Meet in Heaven) and the Common English Bible.
Other authors included on the "removed" list include: Che Ahn, Clay Aiken, Rob Bell, John Bevere, Rodney Howard-Browne, Juanita Bynum, Kenneth Copeland, Paul Crouch, Mark Driscoll, Eddie Long, Brian McLaren, Thomas Merton, Joyce Meyer, Joel Osteen, Walter Wink, William Paul Young, and numerous others. Some Bibles on the list are: New American Bible, New Jerusalem Bible, Today's New International Version, The Voice Bible, and The World on the Street (Bible Paraphrase).
CP searched for Joel Osteen products on Lifeway.com, and was given results for one book that mentions the megachurch pastor in its description but that was not authored by him. The second item listed in the search results, "Jesus at the Center Live," is a DVD of live recordings of Lakewood Church worship group Israel & New Breed. CP saw similar results when searching for products by Albom, who has written at least two books about heaven. Only books mentioning Albom in their descriptions appeared in the results on Lifeway.com.
King, LifeWay's communications director, added in his emailed response to CP's inquiry Thursday that the Christian nonprofit has access to "tens of thousands" of resources it could potentially stock, but does not "comment on individual resource selections."
"Similar to most retailers, LifeWay decides — based on a variety of factors — which resources to carry from the tens of thousands available to us. Therefore, we do not comment on individual resource selections," King wrote.
CP called a LifeWay bookstore in California Thursday to confirm if customers could special order titles that the retailer does not normally stock in stores. When asked if Osteen's 2014 book, You Can, You Will: 8 Undeniable Qualities of a Winner, was available in store, the representative who answered the phone said they do not sell Osteen books. However, the representative answered in the affirmative when asked if the title could be made available via special order. CP also inquired about Albom, and was told after a brief time on hold, that the store did not carry his books either, as "he's the same type of author."
LifeWay claims that it is one of the world's largest providers of Christian products and services. The company has more than 180 stores nationwide and publishes books and the Holman Christian Standard Bible translation through its B&H Publishing Group.
Earlier this year, LifeWay was at the center of controversy surrounding books about people claiming to have visited heaven.
In March, LifeWay told CP that it had been in the process of "removing literature from bookstore shelves that focus on 'heaven tourism,' or stories purportedly based on the accounts of people who claim to have visited heaven."
King, LifeWay's director of communications, said at the time that the Southern Baptist Convention-affiliated nonprofit's decision to remove such titles from its shelves had actually been decided in the summer of 2014.
"We stopped re-ordering heaven visitation resources last summer. All remaining such items have been removed from our stores and website, and will not be replenished," King told CP last month. "We have more work to do aligning the LifeWay Retail Division with LifeWay's vision and values, so we covet your prayers as we continue to provide trustworthy biblical solutions for life."
One such title pulled from its inventory in January is the book The Boy Who Came Back From Heaven,written by Kevin and Alex Malarkey. The subject of the book, Alex, said his claims about a heavenly visitation at age 6, after a coma-inducing accident were lies.
LifeWay was founded in 1891 by J.M. Frost as the Sunday School Board of the Southern Baptist Convention, and began using the LifeWay name in 1971.