Limbless Evangelist Nick Vujicic Releasing First Music Album to Spread Hope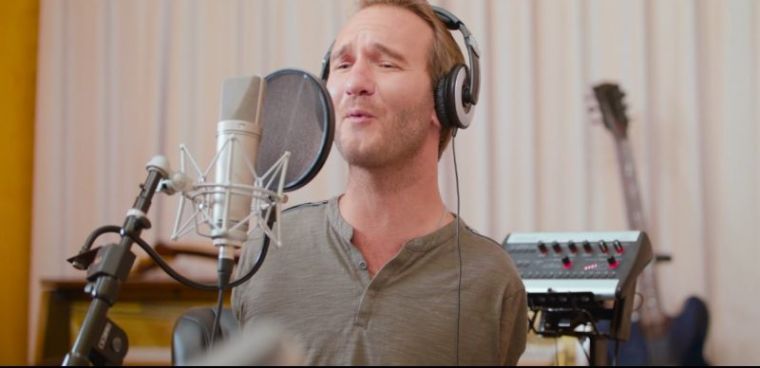 Evangelist Nick Vujicic, famous around the world for his inspirational faith-based messages despite being born without arms and legs, is releasing his first ever music album.
"I'm making an album!" Vujicic announced to his over 9 million followers on Facebook in a message on Thursday.
"It's been a dream of mine for a long time now to be able to take my mission of spreading hope, purpose & encouragement across the globe, and combine it with my love of music & song, and now finally I am getting to do it!" 
Brighter World, as the album is titled, is set for release on January 28, 2018, though it has already been made available for pre-purchase on the official website.
"Can't wait to share videos, info & pics of the journey from here on in. Thank you for your love, encouragement & support," Vujicic added.
The website, which features a previous music video the evangelist released, states that his first cover, "Something More" in 2011, received over 6 million views. A video preview of the "Brighter World" single has been made available on the website.
The evangelist explained that the album is going to be "a mix of uplifting, positive-themed songs; a few faith-based songs; some covers of songs that have impacted and changed my life," and will also offer a number of brand new original songs written by other songwriters, including himself.
Vujicic has spoken at school campuses, prison events, conferences and talk shows around the world, testifying how his faith helped him through the darkest of times when he did not know how he could go on.
He has also written a number of books, such as Unstoppable: The Incredible Power of Faith in Action in 2012.
"With me, in my life, I know that there are people who can get encouraged to see how God can use a man without arms and legs to be his hands and feet, but I wanted people to know that I am not a superhero, it is not about me, or how well I speak or articulate – it is the Spirit of God. It is an active relationship with him," Vujicic told The Christian Post in an interview back then.
The evangelist, who is married and has two sons, announced in June that his wife, Kanae, is expecting twins.
"Happy Father's Day to all the Dads out there! Today was an exceptionally extra special Father's Day for me, after we recently just found out something extraordinary!" Vujicic said in a message at the time, linking to a video announcing the news about the twins.