Limbless Evangelist Nick Vujicic Has 'Extraordinary' Father's Day, Wife Expecting Twins?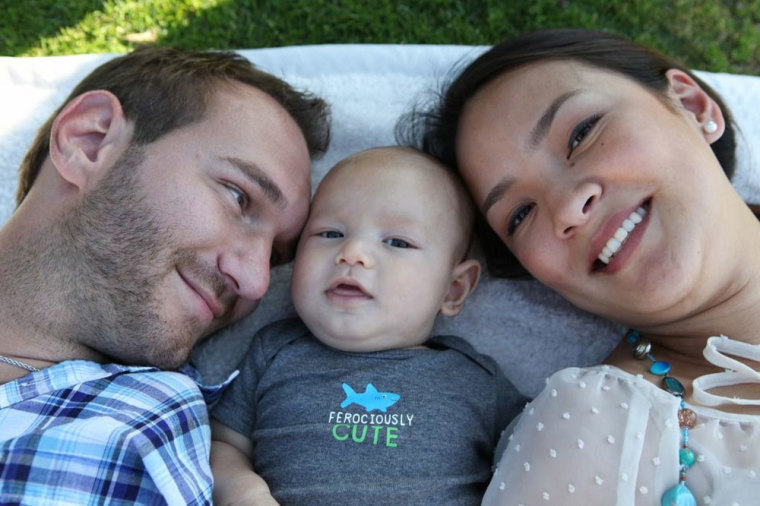 Famous evangelist Nick Vujicic, who was born without arms and legs and struggled with depression before becoming an inspirational speaker, hinted in a Facebook video that his wife might be expecting twins.
"Happy Father's Day to all the Dads out there! Today was an exceptionally extra special Father's Day for me, after we recently just found out something extraordinary!" Vujicic said in a message he posted on Facebook Sunday, along with a 22-second video.
The short video shows Vujicic looking at the camera, before it pans to an ultrasound image on a monitor.
"Third time around," the evangelist says, likely referring to the third time he and his wife, Kanae, have gone for an ultrasound test, with their fist son, Kiyoshi, born in February 2013, and their second son, Dejan, in September 2015.
"So, when you talk about being fertile...what exactly were you referring to?" a female is heard saying in the video.
"You have twins here," the voice, presumably the ultrasound technician, announces.
Vujicic added in his Facebook post: "Thank you for your continued prayers for our growing family! God is good!"
The international speaker and author, who is one of the most popular evangelists on Facebook with over nine million likes, has shared a number of important updates about his life on social media.
Last month, he announced that his father, Boris Vujicic, had passed away.
"To all who have been graciously holding Dad and our family before the Lord Jesus in prayer, thank you all from our family's hearts for your love, prayers and support," Vujicic told supporters back in May.
"Boris Vujicic went to Heaven to be with our Almighty God today," he added. "We love you all."
The limbless evangelist has spoken of the great joy his family brings him on a number of occasions, including in a two-part interview with The Christian Post back in November 2014.
"I honestly didn't think miracles could ever come from my broken pieces, and I was disabled in fear that my dreams would always remain as dreams. Don't give up on you. Don't give up on God. Don't give up on love," Vujicic told CP back then, speaking about his feeling before meeting his wife, Kanae. 
Talking about Kiyoshi, he added:
"It changed everything in such a beautiful and chaotic way all at the same time. Our focus now is not just on each other, but him. I can say nothing ever can prepare you for parenthood. You just jump in with both feet and roll with the punches. It is quick to see what things I can't handle that Kanae seems to handle quite well.
"A lot of the responsibility was and is on her as I cannot do most things for him, but as he is getting older we are interacting, playing and reading books together. Kanae and I never thought that we as human beings had the capacity to love someone so much as we love our baby boy," he continued.
"It is a deeper and new dimension altogether that we love. We hope to have more children in the future so that Kiyoshi has a sibling or two."