Limbless Evangelist Nick Vujicic Brings Message of Hope to 600 Prisons in America: God Is Good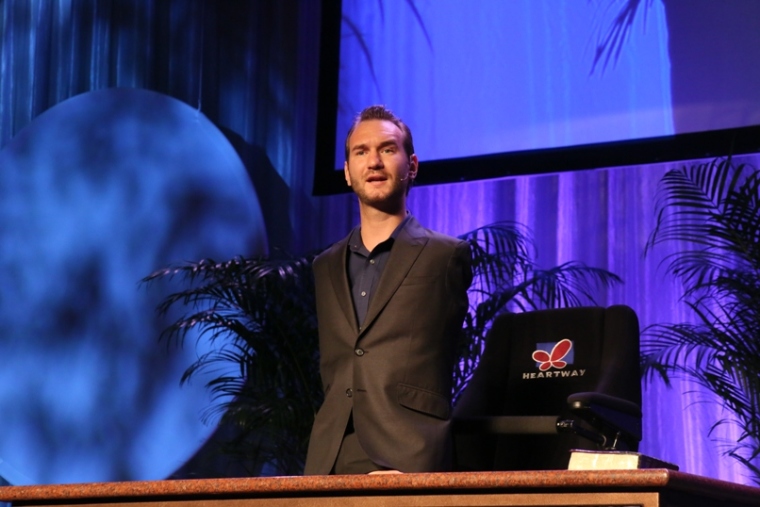 Nick Vujicic, the man known around the world as the "limbless evangelist" as he was born without any arms and legs, is bringing his message of hope to state prisons across America, with as many as 601 prisons signing up to listen to his message.
"God is using Nick's story of hope and trust in Him to reach those who are incarcerated. Life Without Limbs is distributing a video talk to prisons that can then be used by chaplains and volunteers during Bible studies. Currently, we have 601 prisons participating in 21 states. Pray for the 8 states that have shown interest as we are waiting on their responses. God is so good," the Life Without Limbs ministry team wrote in a message posted on Vujicic's Facebook page on Monday.
Vujicic has held inspirational talks focused on God's message of hope throughout the world before many different audiences, and has also been preaching before inmates.
Speaking at Telford Unit Prison in New Boston, Texas, in a video posted online earlier this year, Vujicic tells the audience that he understands some may get fed up with messages of positivity, if they come from sources that don't share their situation in life.
"People can come in here and say 'well just be positive,' - well it's easy for you, because you get to go home, and I can't go home," he said at the time, reflecting what some prisoners may be thinking.
The evangelist insisted, however, that "there is hope beyond what you see."
"I stand before you without arms and legs, and I tell you that I am absolutely not disabled. And I want you to know that just because you are behind prison bars, doesn't mean" that they can't find freedom in Jesus Christ, he said.
Vujicic also related a story of a dangerous prisoner he met in another jail who told him that he was free because he believed in Christ, while the prison guards who could go home each day to their families were not really free, because they did not believe in heaven.
Back in October, Vujicic opened up about his recent European tour, where thousands of people he ministered to came to Christ, and during which time he got to meet heads of state.
"Hey guys, good morning. Last night was incredible, 60 percent of 5,000 people in the auditorium stood up to receive the Lord Jesus Christ. I am here on national TV to do a recap, and from here we go speak to the Parliament, the national government of Ukraine," he said in one of his Facebook updates at the time.
"I just finished a meeting with the president of Slovenia, it was a wonderful encouragement and an enriching time. Tomorrow I will be speaking in front of students here in Slovenia, so please pray for us, and thank you for your love, prayers, and support," he added.