Linsanity Ice Cream Launched by Ben & Jerry's; Fortune Cookies Dropped
Linsanity Ice Cream Launched by Ben & Jerry's; Fortune Cookies Dropped
Linsanity has been taking over the news media in recent weeks, and it has now spread to food, as Ben & Jerry's has decided to release a new Linsanity flavor ice cream. However, controversy has already hit the release as the company has been forced to drop fortune cookies from the ingredients.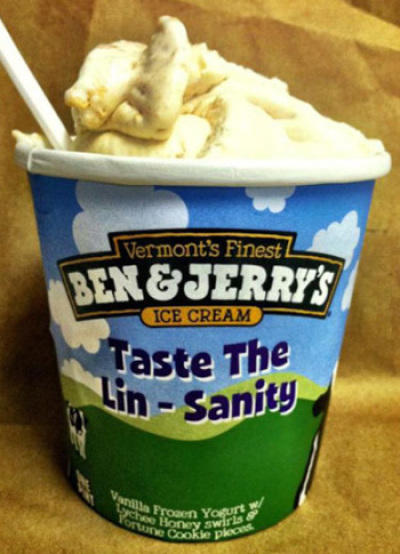 "In recognition of the 23-year-old's overnight fame, the new ice cream pints are made at the Harvard Square shop with vanilla frozen yogurt, lychee honey swirls and come with a fresh waffle cookie on the side, which can be dipped into the ice cream or crushed on top," company officials said.
Ben & Jerry's originally created the flavor with fortune cookie pieces, in an apparent reference to Lin's Chinese, or more accurately Taiwanese connection. However, the Chinese fortune cookie reference upset many fans, and the ensuing backlash seemingly has forced the ice cream maker to rethink.
"There seemed to be a bit of an initial backlash about it, but we obviously weren't looking to offend anybody, and the majority of the feedback about it has been positive," said Ryan Midden, general manager for the Vermont-based company in the Boston area, according to The Boston Globe.
However, the company has also added that its decision to drop fortune cookies from the new flavor had nothing to do with the connotation. It instead insisted it was all to do with the ice cream consistency and flavor, and fears that the fortune cookies would quickly go soggy in the ice cream.
Midden explained that the change was confirmed after "a couple of [pints] got returned because the cookies got so soggy."
Since Jeremy Lin was given a starting spot for the Knicks he has helped turn round their season, initially taking them on a run of seven straight wins. However, the Knicks and Lin were recently humbled by the Miami Heat, in what Lin admitted was a learning experience for him.
The new Linsanity flavor is being produced on a limited run by Ben & Jerry's.