Lisa Bevere 'Bursts Into Tears' Hearing Syrian Man Beg for Prayers; UN Declares 'Hell on Earth'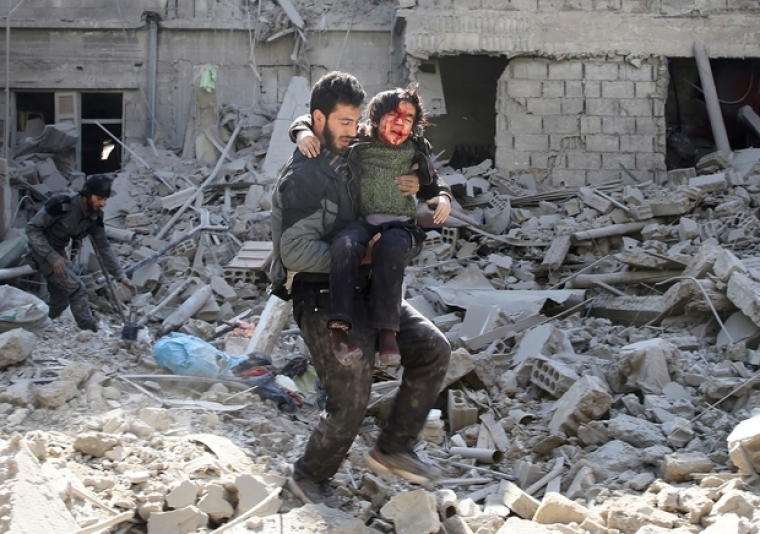 Best-selling Christian author and teacher Lisa Bevere admitted that she "burst into tears" while hearing an audio message from a Syrian man begging for prayers amid the destruction of his city.
"I burst into TEARS hearing this. My heart heard was overwhelmed by the ANGUISH in this man's plea," Bevere wrote in an Instagram message on Saturday.
"IF you LISTEN you will probably CRY, but may you also be MOVED to GIVE & PRAY! And SHARE & REPOST! What if this was your city? Your war?" she asked.
The audio message, shared by Preemptive Love Coalition, described as a "global movement of peacemakers" raising money for aid efforts in Syria and the Middle East in partnership with Hillsong Church, introduces a man named Mohammed from what is described as a "besieged part of Syria."
"Please pray for us. They have destroyed the city on us with artillery, shelling, and warplanes," reads a translation of the man's word, delivered in a desperate tone.
"Pray for us for God's sake. Please deliver our message to the world. Deliver our message I beg you, for God's sake," he pleads.
While it is not made clear where in Syria the message was recorded, the nightmarish humanitarian disaster that has left hundreds dead, including many children, in eastern Ghouta has sparked renewed international coverage of the war-torn country.
United Nations Secretary-General Antonio Guterres asked for a 30-day ceasefire on Monday in order to aid the 400,000 people under siege.
"Eastern Ghouta cannot wait, it is high time to stop this hell on earth," Guterres told the U.N. Human Rights Council.
BBC News reported that at least 541 people have died in government air and artillery strikes since the situation escalated eight days ago in the battle between the army and rebel factions.
The Security Council has demanded that "all parties cease hostilities without delay" in order to deliver humanitarian aid, though a truce has been difficult to implement, as government forces are also fighting jihadist factions of the Islamic State and al-Qaida terror groups.
One doctor, who shared his name only as Dr. Jad, said that medics in Eastern Ghouta are working with "no electricity, no medication, no oxygen, bombs, no medication for anesthesia, no painkillers, no antibiotics."
"They are working in a really, really dreadful, difficult situation; it reminds us of the First World War," he noted.
Over 12,763 people have died in the region alone since March 2011, when the civil war began.
Other medics featured in a CBS "60 Minutes" report said that President Bashar al-Assad has continued using banned chemical weapons in his war against the rebels, despite heavy condemnation from the international community.
"The situation is more desperate than I can describe. There are no words. It was like Judgment Day, the Apocalypse. You just can't even describe the scene, can't even begin to scratch the surface of explaining what happened. We didn't have any protective equipment for gas," Dr. Mamoun Morad said following a nerve gas attack in April 2017.
Pope Francis has also spoken out on the latest atrocities, declaring that Syria is being "martyred."
"All this is inhuman," Francis said at St. Peter's Square on Sunday.
"In these days my thoughts have often been taken up by the beloved and martyred Syria," he added, pleading for help for the thousands of victims at hospitals, who are also being attacked.
"You can't fight evil with another evil."