'Little Boy' Review: A Charming and at Times Far-fetched Tale About Faith and Family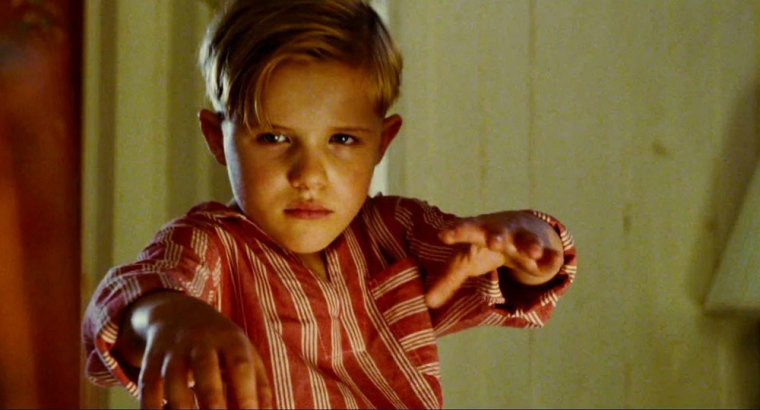 OUT OF 5 STARS: 3
"Little Boy"
Rated PG-13
Running Time: 106 minutes
Opens: Friday, April 24
Stars: Jakob Salvati, Michael Rapaport, Emily Watson
Directed by Alejandro Monteverde
Alejandro Monteverde risks trivializing faith by likening it to magic in "Little Boy" but manages to appease believers with a powerful lesson about loving thy neighbor.
The film, which hits theaters across the U.S. on April 24, opens with heartwarming scenes that reveal the loving bond between father and son, James Busbee (Michael Rapaport) and 7-year-old Pepper Flint Busbee (Jakob Salvati). The happy-go-lucky duo gallivants through a small California town, which is where most of the narrated film is set, and first impressions of the World War II era are instant clues as to the trials and tribulations that lie ahead.
James is forced to leave his family and go to war in the Japanese-occupied Philippines and from then on the film centers on Pepper, nicknamed Little Boy due to his tiny appearance, and his desperate mission to bring home his beloved father.
Rapaport portrays a devoted husband and loving father of two, which he also happens to be in real life, with ease. The blonde-haired, big blue-eyed Salvati instantly charms with his innocent looks alone, which when paired with his high-pitched voice has him resembling former child star, Macaulay Culkin, from the 90s hit "Home Alone."
Themes of love, faith and hope are consistent throughout the 106-minute film and they beautifully support its overall message, which is that anything is possible when you find the courage to believe.
At times, however, Monteverde, who has limited filmmaking experience outside of his first film "Bella" (2006), makes the mistake of blurring the lines between faith and magic which creates confusion and invites theological criticism. The slip is surprising because the film is executive produced by major Christian filmmakers husband and wife duo, Roma Downey and Mark Burnett.
Even before his father is deployed to fight for his country, Little Boy is constantly reminded that it is important to "believe" and have faith but the message is quickly lost during a number of unrealistic and far-fetched scenes.
In one scenario, Little Boy has an encounter with popular magician Ben Eagle (Ben Chaplin) in which he manages to move a glass cup across a table without touching it at all because he had the courage to "believe." The magic continues during a later scene when the youngster literally moves mountains after his older, pessimistic brother London (David Henrie) attempts to humiliate him before a crowd.
While the stunning cinematography (Andrew Cadelago) and the conservative 1940s wardrobe add life to the occasionally ho-hum film, both of the above mentioned scenes would have been less nonsensical without Little Boy's odd hand-pointing gesture and intense gaze. In fact, perhaps replacing the hand thing with a simple prayer could have prevented the film's dangerous implication that God is some sort of magician as opposed to our Creator.
The most valuable lessons are apparent in the more logical scenarios. At one point, Little Boy forges an unlikely bond with Hashimoto (Cary-Hiroyuki Tagawa) who is a widely hated Japanese-American living in a racist town. The painful task is a part of a list of the Seven Works of Mercy, which requires Little Boy to fulfill a range of good deeds as part of his quest to bring his father home. Local priest, Father Oliver, provides the list to Little Boy in a bid to help strengthen his faith in both God and himself and we begin to see it work when he finally finds the strength to stand up to his bullies in a fight that plays out like some sort of David Vs. Goliath battle.
Young viewers will benefit from learning about the importance of faith and how it awakens your inner power, hope and fearlessness. With a little less magic and deeper faith elements (for example: biblical references), the story of "Little Boy" would have better resonated and made a more solid impact.