Lolo Jones Fires Back at 'Haters' After Speaking Out Against '50 Shades of Grey'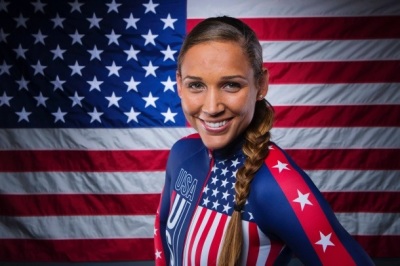 Lolo Jones is firing back at her haters after some criticized her for believing that it's immoral to watch the movie "50 Shades of Grey."
The movie centers around a sadomasochistic relationship between a young college student and a business mogul. When Jones, the 32-year-old Olympic hurdler and bobsledding athlete, took to Twitter to speak out about the film she received a great deal of backlash because of her lack of sexual experiences.
She took to Facebook to let people know about the backlash she's received, which includes being called derogatory names for sharing her opinion about the the film and BDSM (bondage and discipline/dominance and submission/ sadism and masochism). Jones went on to further explain her stance on the matter by writing that women were never created to be treated abusively by men while insisting that the popular film is creating a false image of love.
Jones also chose to affirm her Christian beliefs by sharing the biblical passage Philippians 4:8 which reads, "Finally, brothers, whatever is true, whatever is honorable, whatever is just, whatever is pure, whatever is lovely, whatever is commendable, if there is any excellence, if there is anything worthy of praise, think about these things."
Jones insisted if God outlined the need to think of the things listed in the passage, there was no need to glamorize the sexual acts featured in the popular erotic genre that has been a cause of debate for some in the Christian community. She went on to respond to three groups of naysayers who she has received backlash for concerning her comments against the movie. One of the groups of people she called "Haters group 1" questioned the athlete speaking on the matter from a virgin's perspective.
"I've also never been obese, but I know the sincere health risks to being overweight. There are tons of statistics on how damaging porn, premarital sex and cohabiting are prior to marriage, completely unrelated to Christianity," Jones wrote, addressing her critics. "I believe that my desire to remain pure is perfectly in line with God's best for my life. I also believe it eliminates the confusion that comes with being bonded, tied to multiple men while searching for The One."
Jones categorized "Haters group 2" as those who questioned her wearing a bathing suit in her Twitter avatar picture, which she said was no comparison to the fact that people saw more of her body when she was competing in track and field events. She responded to "Haters group 3" that believed she wanted to do things for fame by letting those critics know how fleeting fame was and quoting 1 Peter 1:24.
To her last group, which she addressed as "Haters group 4" that tried to tell Jones that she needed to chill since "50 Shades of Grey" is just a movie, Jones also fired back.
"The movie 'Natural Born Killers' inspired some of the most gruesome copycat crimes. Also, the movie 'Scream' encouraged teenagers to murder," Jones wrote. "Motivation and behavior can come from endless sources of inspiration, whether it's a movie, video game, or novel. '50 Shades of Grey,' although seemingly insignificant, can easily encourage and or inspire men, women and children to act according to the behaviors that are represented."
She went on to quote Matthew 6:22 which reads, "The eye is the lamp of the body, So if your eye is healthy, your whole body will be full of light, but if your eye is bad, your whole body will be full of darkness. If then the light in you is darkness, how great is the darkness!"