Lolo Jones Speaks Out Against People Watching '50 Shades of Grey'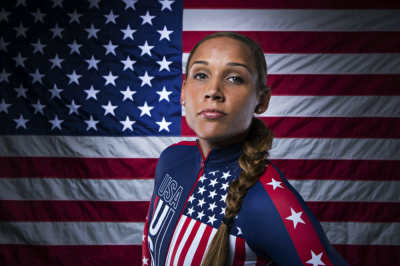 Lolo Jones is not afraid to take a stand against the new erotic drama that hit theaters recently, "50 Shades of Grey."
Jones, the 32-year-old Olympic hurdler and bobsledding athlete, took to Twitter to speak out about the film after a number of faithful believers have expressed their support for it.
"Funny how some people think there's nothing wrong with 50 shades of Grey," Jones wrote. "God didn't create sex for that purpose. Watch another movie."
She went on to further explain her position on the matter.
"Some ppl medicate pain by being more and more physical to where if they are ever alone they can't feel any peace," Jones tweeted.
The athlete's tweets come one week after she spoke about wanting to put earthly desires behind her.
"Even if I never get my Prince Charming, Jesus you are my Prince Charming. Jesus you are enough," Jones wrote in a series of tweets last week to express that she wanted to desire God more. "Even if I never win an Olympics, Jesus you are my victory. Jesus you are enough."
While some have felt the way Jones does about the provocative movie, other Christians have been unashamed in supporting the film publicly. One of those Christians is Seattle Seahawks quarterback Russell Wilson.
Wilson, 26, was criticized by some after expressing his enjoyment for the film after seeing an advanced screening in movie theaters.
"Thanks for the early showing of #50ShadesOfGrey late last night.. #EmeraldCity Great movie," the NFL star wrote.
The movie centers around a sadomasochistic relationship between a young college student and a business mogul. However, some were surprised and critical of Wilson's decision to watch the movie that he called "great" and let him know by commenting on social media.
Wilson stood his ground, however, and defended his devotion to his faith on social media.
"Saw a movie filmed in the town I call home," Wilson tweeted. "Provocative/disturbing no doubt but that does not make me less faithful. Have a blessed day!"
The NFL player has been very vocal about his faith in the past. Wilson previously said he wanted his legacy on the football field to center around him being considered a winner, but he also spoke about another legacy that he wanted to leave behind off of the field.
"In terms of my legacy off the field, I want to be a Christian man that helps lead and helps change lives and helps serve other people. It's not about me, you know," Wilson told reporters on Super Bowl media day that took place on Jan 27. "It's not about me and it's about just helping other people. So that's kind of where I keep my focus."