Lolo Jones Talks Finding Contentment in God After Years of Losing Hope in Answered Prayers; Bonds With Fans Over 'Frustrating' Loneliness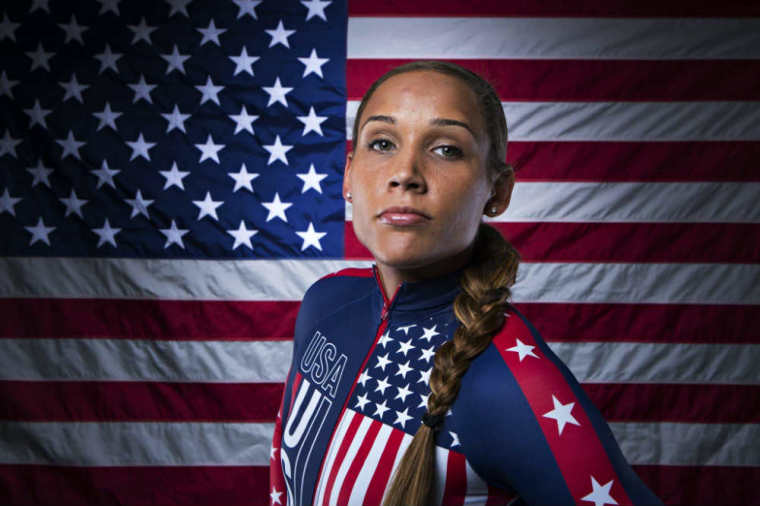 U.S. bobsledder and Olympic hurdler Lori "Lolo" Jones has shared openly of her struggles in prior years of trying to accomplish things by her own strength, instead of relying completely on God. "That exhausted me. It broke me," she confessed to fans, moving many of them to reveal their own struggles.
"Be the kind of person who never gives up hope, regardless of how hopeless things seem, because your hope is in the Lord," Jones wrote on her Facebook page on Tuesday.
She went on to share, "My prayers have been on hope lately. The last few years without me knowing I began to lose hope that God answered my prayers. I continued to worship and love Him but I tried to do things in my own strength. That exhausted me. It broke me. Especially with the taunts of social media always reminding me of things I lacked. A gold medal, a husband, etc etc... But If I never get what I want, I have committed my life to you Lord."
The star athlete concluded, "There's a point in your relationship where you gotta find comfort with only you, God and His word."
The post was "liked" by more than 6,952 of Jones' fans and supporters, shared more than 460 times and attracted even more comments.
Among the most popular comments that resulted from Jones' "hope" confession was one by Alex B. Clark, who shared his struggles with being an unmarried man.
"Hard for me to not give up hope after waiting 52 (years) for a first date. Avoiding smoking, drinking, drugs, cuss words, sex until marriage, to prove I am a good catch, has backfired and made me too much of a freak for anyone to have anything to do with me. Now I'm too old for everyone. Hard to have any hope left. Too bad I'm not a lot younger, you are the closest thing to perfect I have seen Lolo," wrote Clark.
Jones responded to Clark's confession, at first encouraging him to have gratitude for the things God has blessed him with, but then bonding with Clark over the issue of "loneliness."
"Yes Alex, thank you for sharing," wrote Jones. "I know this pain. Loneliness is hard. It's frustrating. Thank you everyone for encouraging Alex. Know that I am praying for you and they are as well."
Jones has more than 340,000 followers on Facebook and, according to Biography.com, the 31-year-old is reportedly the most-followed U.S. track athlete on Twitter, where she has about 403,000 followers. In addition to talking openly about her faith with fans, Jones has received media attention for being open about her pursuit for love and her desire to remain celibate until marriage. Reports have linked her romantically to former NFL player Tim Tebow and most recently, Seattle Seahawks quarterback Russell Wilson. Jones has never given any credence to the reports, although the track star and bobsledder previously joked about asking Tebow out on a church date.
After her failed bid to earn a medal at the 2008 and 2012 Summer Olympics, Jones earned a spot on the U.S. bobsled team to compete at the 2014 Winter Games in Sochi, where she and her teammates finished 11th. Before Sochi, the U.S. team won a gold medal in the mixed team event at the 2013 World Championships.
The star athlete participated in three track events last month, and has stated that her final appearance at the Summer Games will be in 2016 in Rio de Janeiro. While Jones would love to earn a medal at the Summer Games, she has stated that a medal cannot fulfill her. Only a relationship with God can do that, she declared last year during an appearance at Northside Christian Church where she discussed her personal hurdles, career, and how God factors into every area of her life.
Watch Jones' discussion in the video player below: