'Lord of the Rings' Star John Rhys-Davies Joins Documentary About Great Artist-Turned-Missionary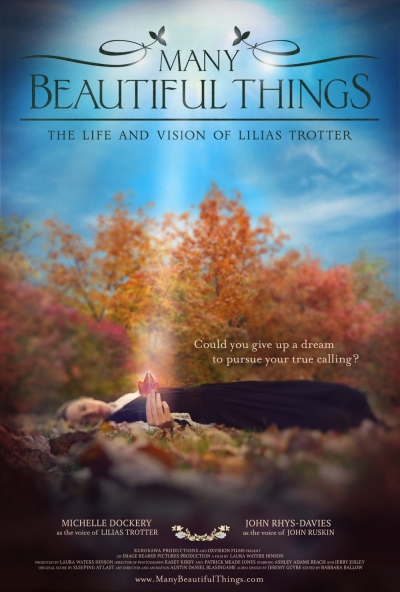 "Lord of the Rings" star John Rhys-Davies is teaming up with Michelle Dockery of "Downton Abbey" on "Many Beautiful Things," a documentary about British missionary and artist Lilias Trotter.
Telling the little-known story of one of the greatest female artists of all time and why her name was almost lost to history, "Many Beautiful Things" will explore the life and vision of Trotter, whose faith bid her to make an ultimately stunning life decision. While Dockery was cast as the voice of Trotter in the documentary, The Christian Post learned exclusively that Rhys-Davies will play the voice of Trotter's teacher, John Ruskin.
Born into a wealthy family in London in 1853, Trotter grew up to be a learned artist in training under Ruskin, a leading art critic and prominent social thinker. However, at 26-years-old, Trotter was given an ultimatum by Ruskin. He told her he was willing to make her one of England's greatest living painters – if only she would abandon everything to her art. The film explores the aftermath of this ultimatum, leaving audiences to wonder, "Could you abandon a dream to pursue your true calling?"
"What drew me to Lilias Trotter was her story," executive producer of "Many Beautiful Things" Brian Oxley told The Christian Post in an emailed statement.
"As a storyteller at heart, I found her story not just compelling, but the choices she made were a challenge to me personally," Oxley added. "I was left asking myself, 'Could I make the same choice?' And I think that will be true of everyone who sees this film."
As one of Ruskin's students, Trotter was groomed to be the greatest female painter of the Victorian era. Instead, she became immersed in Algerian culture and was able to bring Jesus' teachings to foreign lands while also pioneering efforts to educate women and children. While Trotter penned several books and booklets such as "Parables of the Cross" and "Parables of the Christ-life," her own story inspired several books, including "A Passion for the Impossible" by Miriam Huffman Rockness.
Director on the documentary Laura Waters Hinson noted Trotter's incredible courage as well as her ironclad commitment to humanity.
"In studying the life of Lilias Trotter, I couldn't believe I'd never heard of her story," the director/producer explained to CP in a statement. "Here was a woman who defied all the norms of the late 1800's by becoming the protégé of artist John Ruskin, one of the most famous men in England. Then, she went on to make incredibly daring counter-cultural choices that very few women – then or now – would have ever made. Her sacrifice and humility was something that deeply challenged and inspired me."
The director also explained how Dockery and Rhys-Davies will appear in "Many Beautiful Things."
"Actors Michelle Dockery and John Rhys-Davies brought an enormous talent to 'Many Beautiful Things,' lending their voices to read the intimate letters and journals of Lilias Trotter and John Ruskin," Hinson said.
In a unique approach to filmmaking, Hinson combines the actors' voices with abstract, silent re-enactments which act as non-literal memories of Trotter's life that are intermingled with her artwork. As a result, Hinson was able to "maintain the dreamlike quality of the film while upholding the form of a documentary."
"Many Beautiful Things" is being executive produced by Hisao Kurosawa, son of legendary filmmaker Akira Kurosawa. The film is expected for release sometime later this year on the film festival circuit.