Luis Palau Evangelistic Event Reaches Thousands in Formerly-Atheistic Albania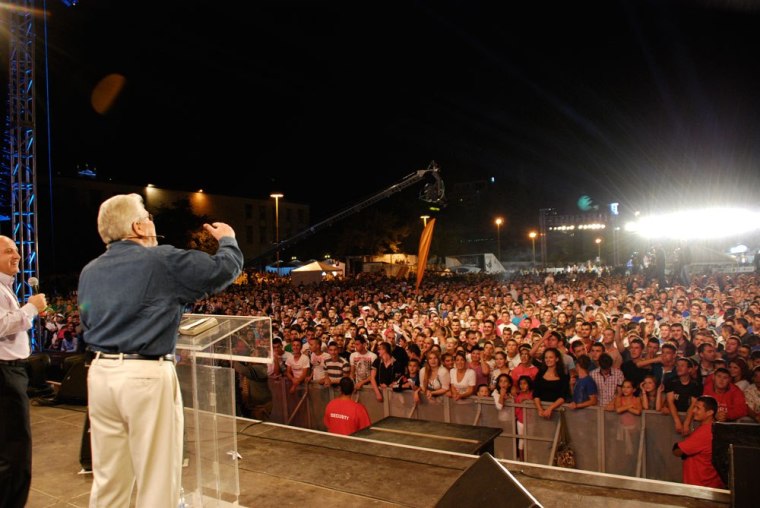 More than 20,000 people in Tirana, Albania received Luis Palau's message of the Good News of Jesus Christ during TiranaFest, a massive evangelistic campaign that took place Sept. 22-23.
Albania, a nation that was under state-atheism from 1967 until the fall of communism in 1991, has an estimated 70 percent Muslim population from its 3 million people, with another 20 percent being Albanian Orthodox and 10 percent identifying as Roman Catholic, according to the CIA World Factbook.
But Randy Burtis of the Luis Palau Association shared in an email statement with The Christian Post that after so many years of indoctrination toward atheism, many Albanians still do not have faith in Jesus Christ.
"However, we found that Albanians are very willing to talk about and consider spiritual questions. This opened up a lot of opportunity for dialogue and outreach," Burtis told CP.
"By the time our festival week had reached its conclusion, well over 2,300 people had made decisions to follow Christ. The primary change in approach that we took was to try and eliminate 'church language' from our advertising and our messages. It was not that common Christian terms would have been offensive, but in most cases would not have been understood by people who have not been exposed to the message of the Gospel."
The evangelistic event was supported by a number of churches in Tirana who described it as one of the most successful outreach campaigns the city has ever had.
"This was totally different...something that has never happened in Tirana," said Pastor Paulin Vilajeti of the Albania Christian Center. "Because people were attracted by different events. I believe and I hope that God touched different generations – from children to the old people."
"I think it's historic," added Toni Gogu, an attorney and chair of TiranaFest's organizing committee. "For the first time, we have had the elites of Albanian society – the business community, the political community – being addressed in such a genuine way with the Good News of salvation."
An impact report on TiranaFest estimates that around 2,300 Albanians have been convinced to turn their lives over to Jesus Christ. The city's churches held a three-month Season of Service before the Palau event, helping the community with medical clinics, dental clinics and other projects.
Days before the big event, Palau, who regularly holds such evangelistic outreach campaigns throughout the world, also met and prayed with Albanian government and church leaders.
"Since 1985, I have loved Albania, I have read about Albania, and I always dreamt that someone would invite me," Palau has said.
Palau's ministry is said to have reached more than 1 billion people around the world through evangelistic events and media, and he has spoken to over 30 million people in 75 different countries.