Lysa TerKeurst, Sadie Robertson discuss the importance of setting boundaries in relationships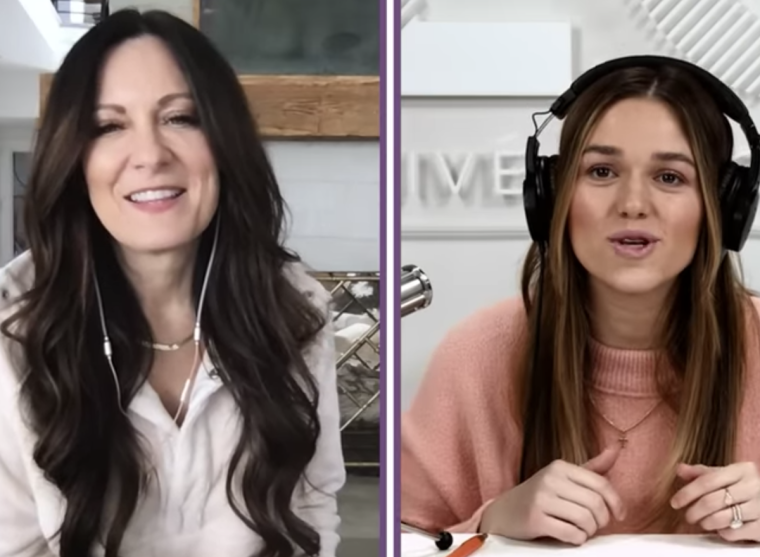 Sadie Robertson Huff and Lysa TerKeurst recently discussed why setting boundaries based on biblical principles contributes to the overall health of a relationship. 
TerKeurst, the founder of Proverbs 31 Ministries, stressed on Robertson's "Whoa That's Me" podcast that most unhealthy relational problems stem from a lack of boundaries. But she said Christians should avoid forcing others to change based on the boundaries they set within their relationships. 
The 53-year-old speaker and author said on the Feb. 2 podcast episode that boundaries are intended to help individuals "stay safe, sane and sustainable" within any relationship. Boundaries should be intentional and aimed at establishing good communication and/or protection in relational connectivity.    
"All healthy relationships have boundaries. … I do believe that boundaries are not just a good idea, they're actually God's idea. … When I got to the point in the Bible, where God is establishing the temple, I was absolutely blown away by the revelation of two crucial words, 'access and responsibility,'" TerKeurst said. 
"You see, when God established a temple, He gave certain people access, but not all people all access."
TerKeurst said Christians can look to Scripture to understand how to give others access to themselves while setting appropriate boundaries. She said the high priests in the Old Testament were required to "demonstrate the highest level of responsibility, and they were given the high access of once a year being able to go into the Holy of Holies to make atonement for the people." 
TerKeurst said that if the high priests were not absolutely purified and cleansed, they faced consequences, which sometimes meant death. She noted that high priests were given access to the temple in ways others weren't for a specific purpose.   
"It wasn't because this group of people was more valuable than this group of people. It's that the more access God granted to someone, the more responsibility they were required to do, all the way to the high priest," TerKeurst said.
TerKeurst, who last year announced she and her husband would be ending their marriage of nearly 30 years after he engaged in "chosen patterns of behavior that dishonor God and the biblical covenant of marriage," admitted she used to struggle with setting boundaries.
"And so, it sort of got me thinking, 'Wow, I think one of my issues is that I have granted too much access to certain people to areas of my limited capacity.'… If I'm granting someone great access to my financial capacity, but they are not being responsible with the kind of access I have granted them, then I run the risk of going bankrupt."
TerKeurst, whose latest book is titled Good Boundaries and Goodbyes, said God gave her the realization one day while reading Genesis that there are levels to giving access to oneself.
"Here's the mistake I used to make. OK, let's say I'm giving level 10 access to someone, and they're only bringing level 3 responsibility. I used to try to put a boundary on them to get them to raise their responsibility level up to match level 10 access. But we can't ultimately control another person if this person is unwilling or incapable of demonstrating anything more than level 3 responsibility," TerKeurst reasoned. 
"Then, I must draw a boundary around myself and reduce the access I grant them down to level 3. Because of that, I can be in charge of me. And you know, God never called us in the Bible to control other people. God absolutely says a fruit of His Spirit in us is to be self-controlled. Reducing access is an example of being self-controlled." 
TerKeurst said the key to establishing boundaries is to set them and then exercise patience with the other person in the relationship. 
"'With God, all things are possible.' And so we may not be able to 'make all things possible' with this person, but we can step in and remind ourselves. We can demonstrate self-control because God's Spirit is within us," TerKeurst said. 
TerKeurst emphasized that the motives that Christians should have in setting boundaries around themselves should be rooted in love, not manipulation.  
She said Christians should allow the fruit of the Spirit to show in their character, and setting boundaries can help keep them at their best.
"When I'm at my worse, … I start to become impatient, skeptical, not trusting, a whole lot less generous, maybe even stingy, and I start to withdraw rather than press in. … It is my job to remain self-controlled enough so that the best version of me can be front and center," TerKeurst said.  
"When I am frazzled, fractured, pushed to my limit, pushed over my capacity, operating at a zero, the worst of me comes out. It is my responsibility to control that. And within the context of a relationship, I need to remember only I can control my actions. No one else is going to step in and do that for me," she continued. 
"But, using the power of the Spirit in me and me using wisdom for myself, I want to love others well without losing the best of who I am. Therefore, boundaries are going to be not only necessary but healthy." 
Robertson Huff agreed that the power of the Holy Spirit allows for continued growth when setting boundaries for everyone involved. 
"I think that there are certain things in our life that only you have the power to change, to control. And the Holy Spirit in you is going to convict you. He's your accountability in that. But, it's your job to listen and to be willing to change and to be willing to put in the work," Robertson Huff noted.