Mainstream Media Are Against Biblical Child-Rearing, Say Ministers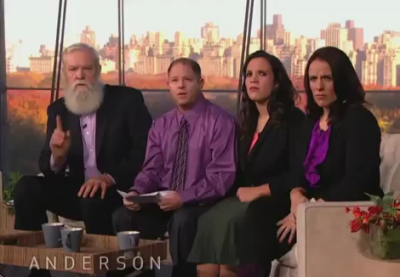 Are mainstream media outlets downplaying evangelicals' arguments for using biblical methods to raise children? Yes, according to two ministers who recently appeared on Anderson Cooper's daytime program.
Cooper has also covered the issue of corporal punishment practiced on minors on his CNN program, "Anderson Cooper 360."
Mike and Trisha Fox are two evangelical ministers who host "Marriage for Today," a radio show offering marriage and relationship coaching from a Christian perspective. They are also contributors to The Christian Post.
The couple has been practicing methods recommended by Michael Pearl, a controversial evangelical pastor and author of To Train Up a Child, a book which describes Pearl's interpretation of what he claims to be Bible-based ways of raising a child properly. The founding pastor of No Greater Joy Ministries in Tennessee has found himself under scrutiny after his book, which he co-wrote with his wife, Debi, became linked to several cases of criminal child abuse.
Pearl is an advocate of spanking an unruly child as young as 3 years old with a plumber's supply line, among other methods, described on the ministry's website.
"The most painful nerves are just under the surface of the skin. A swift swat with a light, flexible instrument will sting without bruising or causing internal damage," Pearl wrote in 2001. "Many people are using a section of ¼ inch plumber's supply line as a spanking instrument. It will fit in your purse or hang around you neck. You can buy them for under $1.00 at Home Depot or any hardware store. They come cheaper by the dozen and can be widely distributed in every room and vehicle. Just the high profile of their accessibility keeps the kids in line."
Still, the minister resents the term "corporal punishment," writing in 2006: "we do not speak of 'corporal punishment,' as do some, but rather of 'corporal chastisement'—a biblical term found in the New Testament in the twelfth chapter of Hebrews." 
Among the training methods advocated by Pearl that raise some eyebroes are those described by him on Cooper's show: when the baby bites the mother while breast-feeding, the mother should "jerk him away;" alternatively "gently" pull the baby by the hair or ear, or pinch it on the neck.
Michael Pearl was previously a guest on Cooper's "Anderson Cooper 360" show in late October.
The Foxes were invited on the "Anderson" show in New York City to represent the Pearls' side of the argument. The couple claims they have successfully raised a daughter, and that they are grateful to the Pearls for their advice. But after filiming the show, the two ministers accused Anderson Cooper of spinning the show in a way that presents the views of Michael Pearl as morally wrong, and which allegedly gave them no opportunity to defend their arguments.
"We were specifically told over the phone that they wanted to talk about Pearl and his book, but as we sat watching the show before preparing to take the stage, we saw in horror how the entire show was twisted, or 'spun' as they say, to attack any position outside of the anti-spanking perspective," the Foxes wrote in their recent column for CP. "While we were told it was going to be a fair and balanced discussion, we watched time and time again as Anderson Cooper and everyone else on the show habitually cut off Pearl as he was trying to answer emotionally charged, biased questions."
During the show, Pearl, who appeared without his spouse but in the company of the Foxes, was asked by Cooper why is it "okay" to spank children, when it would not feel right to do the same to a co-worker.
"Because the children are going to live in that real world where they can be fired, where they can have a wreck, where they can have an overdose; where all kinds of things can bring harm," Pearl answered. "So we're emulating the real world where there are consequences to your deeds. Ninety percent of all parents spank their children and they do it because it's a natural parenting instinct; it's a part of nurturing, a part of communicating that there are consequences and you have to be responsible for your actions."
At another instant, Cooper suggested that methods recommended by Pearl are similar to methods used when raising an animal, to which Pearl agreed, because "the techniques for training an animal and a human are the same." Pearl added that establishing a relationship involving trust and letting the subject know one is not going to hurt it is essential. But before that, Cooper passed the microphone to members of the audience, who began criticizing Pearl.
Mike Fox told CP Monday he felt the time rationing on the show was not fair.
"Aside from the very fact that the main guest had about 5 percent talk time, the other flown in biased guest had about 75 percent talk time and we about 3 percent, it was amazing to see on the inside how they manipulate the audience to 'see' and 'feel' exactly how they want the audience to see and feel," Fox told CP via email.
"It was SUPPOSED to be a fair and balanced discussion, but was not. Everything about this show was spun, twisted and shaped to cause the viewers to only see and feel one point of view," he added.
Some critics, including Cooper and other media outlets, have linked Pearl's book to several criminal cases in which minors have suffered.  In the October interview, Cooper pointed out that the book, directed at "fundamentalist Christians," might be linked to the recently publicized acts of parental violence against children.
A copy of To Train Up a Child was reportedly found in the house of parents of Hana Williams, a 13-year-old adopted child from Ethiopia whose body was found in her parents' backyard in May. The child's autopsy showed signs of malnutrition which, together with hypothermia, were declared the cause of death. The girl's body also showed signs of physical abuse. The parents were reportedly practicing some parenting methods recommended by the Pearls, including spanking with a rod, therefore the girl's death was one of several cases of child abuse-related deaths that have been mentioned in the media in relation to the Pearls. Pearl said, according to CNN, he cannot be responsible for parents who misinterpret his teachings, and that it was his responsibility to keep parents from abusing their children.
In another case, from 2006, North Carolina 4-year-old Sean Paddock's loss of life was linked to Pearl's book as well, according to CBS News. The boy's foster mother, who was found guilty of murder, reportedly owned a copy of To Train Up a Child and followed the spanking method advocated by the minister. CBS News reported that the boy had been beaten with plastic tubing as a punishment before his death. "When that didn't work, his mother Lynn wrapped him in blankets so tightly that he suffocated," the news station reported.
Cooper has also brought up the case of a Texas judge seen in a viral video beating his then 16-year-old daughter with a belt.
"Our responsibility is to keep families from abusing the children," he told Cooper. "There are about 1,700 children every year killed by their parents through abuse or neglect. The average is up to five a day. And out of every 75 children, our book is in — in one of those homes."