Malala Yousafzai Asks Obama to Send Books, Not Guns and Weapons to Other Countries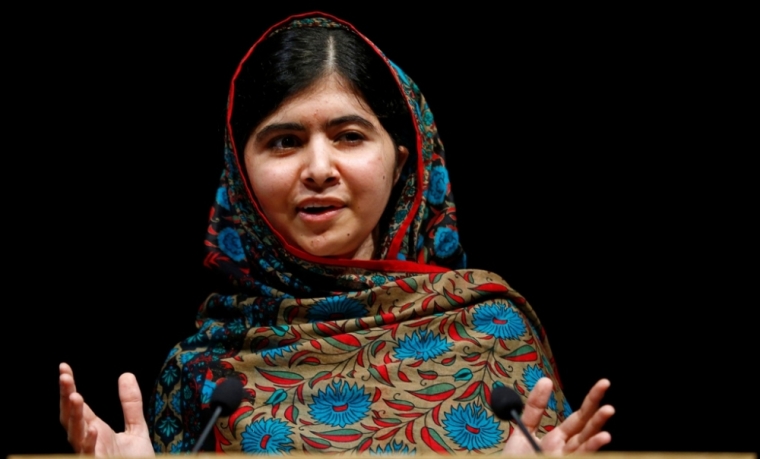 Nobel Peace Prize winner Malala Yousafzai asked President Barack Obama during a private meeting to send books and teachers instead of guns and weapons to other countries, it was revealed earlier this week.
"My message was very simple," 17-year-old Yousafzai said of her talk with Obama. "I said instead of sending guns, send books. Instead of sending weapons, send teachers."
In an interview with MSNBC posted on Thursday, the Pakistani human rights activist said that Obama's response to her request was "pretty political" in nature.
Yousafzai was targeted by the Taliban for her advocacy work promoting women's education while living in Pakistan, and in a 2012 attack she was hit in the head by a bullet, but survived.
She has since spoken at a number of U.N. events and has become a global icon for women's education, being awarded with the Nobel Peace Prize earlier in October.
Obama congratulated the Pakistani teenager in a statement from the White House, and said that the distinction she was awarded "is a victory for all who strive to uphold the dignity of every human being."
"In recognizing Malala and Kailash, the Nobel Committee reminds us of the urgency of their work to protect the rights and freedoms of all our young people and to ensure they have the chance to fulfill their God-given potential, regardless of their background, or gender, or station in life," Obama wrote, referring to human rights activist Kailash Satyarthi who was also given the Nobel Peace Prize.
In her interview, Yousafzai said that she attempts to live a normal life amid all the focus and attention she has received. She compared her life to the plot of a movie, where "at the end, the villain loses and the hero wins, and there is a happy ending."
While the war on terror group ISIS was not mentioned in the interview, the U.S. has been leading a broad coalition of countries who have carried out airstrikes in Iraq and Syria, and have supplied arms and supplies to local Iraqi and Kurdish forces defending their cities.
The war on ISIS was officially dubbed "Operation Inherent Resolve" last week, said to reflect "the unwavering resolve and deep commitment of the U.S. and partner nations" in combating jihadist groups.
Obama has explained several times that the U.S. will do all it can to stop ISIS advancements through airstrikes, but will not send ground troops into the region.